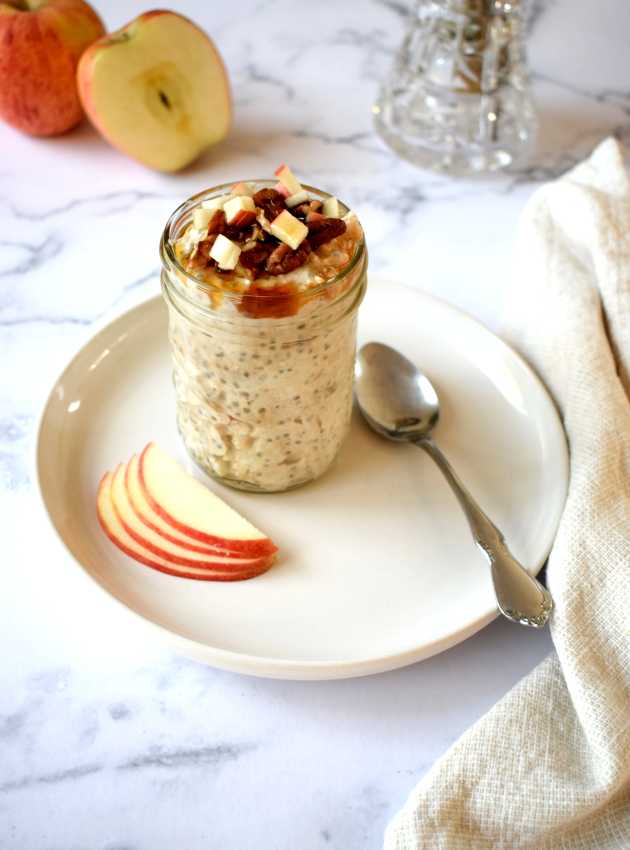 For your rushed weekday breakfasts, this recipe is perfect to take with you or even eat at home because it requires no preparation on the morning itself, even the topping can be added the night before. It's convenient, tasty, and nutritious!
 
Ingredients
310 ml (1 ¼ cup) unsweetened soy milk
125 ml (½ cup) rolled oats
125 ml (½ cup) plain 0% Greek yogurt
60 ml (¼ cup) textured vegetable protein (TVP)
30 ml (2 tbsp) peanut butter powder (see note)
15 ml (1 tbsp) chia seeds
15 ml (1 tbsp) maple syrup
½ apple, diced
5 ml (1 tsp) vanilla
2.5 ml (½ tsp) cinnamon
For topping:
Apple, diced
Walnuts or pecans, to taste
Note: Peanut butter powder can be found in most grocery stores in the organic or natural foods aisle. You can substitute it with vanilla protein powder or simply omit it.
Preparation
In an airtight container, mix all the ingredients.
Refrigerate for at least 3 hours or overnight. Garnish at the time of tasting or before refrigerating for rushed mornings.
Notes
Keeps for 5 days in the refrigerator in an airtight container.