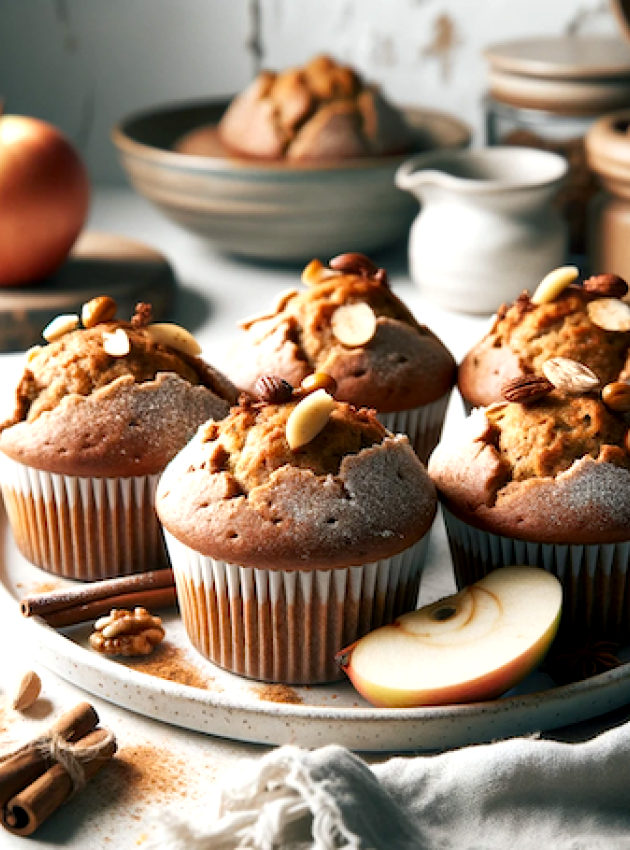 Explore our irresistible recipe for Apple and Spice Muffins, a delight to slip into your lunchbox. Tasty and easy to make, these muffins are a winning choice every time!
Ingredients
425 ml (1 ¾ cup) of whole wheat flour
7.5 ml (1 ½ tsp) baking powder
2.5 ml (1/2 tsp) Garam Masala
5 ml (1 tsp) cinnamon
2.5 ml (1/2 tsp) nutmeg
2 apples, cut into small cubes
65 ml (¼ cup) butter or canola oil
85 ml (1/3 cup) maple syrup
2 eggs
125 ml (½ cup) plain yogurt 2%
5 ml (1 tsp) vanilla
125 ml (½ cup) applesauce
85 ml (1/3 cup) walnuts
Preparation
Preheat the oven to 425 °F and butter the muffin pan.
In a large bowl, mix flour, baking powder, spices and apples together.
In another bowl, mix vigorously with a fork the melted butter (or oil) and the maple syrup. Add the eggs and whisk. Put the yogurt, the vanilla, the compote and mix again.
Put the liquid ingredients with the dry ingredients and mix with a wooden spoon until it gets smooth.
Add the nuts and mix gently.
Pour the preparation in the 12 cups.
Put in the oven for 12 to 15 minutes or until a toothpick comes out clean.
Take out of the oven and allow to cool down before unmolding.