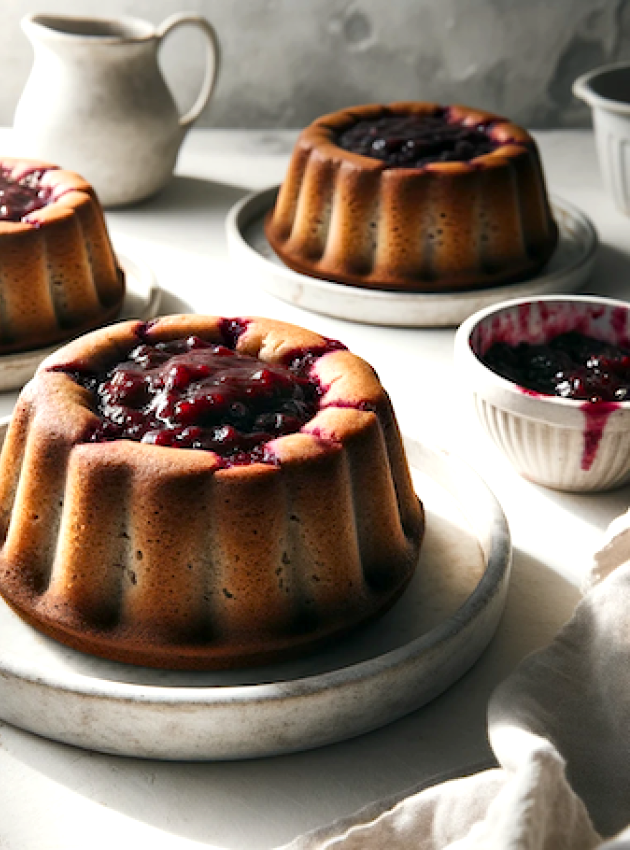 Indulge in flavor harmony with our recipe for mini berry cakes delights. Savor these indulgent and wholesome desserts that will satisfy your taste buds.
Ingredients
250 ml (1 cup) pitted dried dates 

175 ml (¾ cup) water 

375 ml (1 ½ cups) mixed berries 

250 ml (1 cup) whole wheat flour 

10 ml (2 teaspoons) baking powder 

A pinch of salt 2 beaten eggs 

80 ml (⅓ cup) canola oil 

80 ml (⅓ cup) milk 

5 ml (1 teaspoon) vanilla extract
Preparation
Place the dates and water in a bowl, microwave for 3 minutes. 

Using a fork or immersion blender, puree the dates. 

Preheat the oven to 350°F (175°C). 

In a muffin tin, spread the mixed berries. *As I like to fill the bottom of the molds completely, I only use 10 out of the 12 molds. 

In a bowl, mix the flour, baking powder, and salt. Set aside. 

In another bowl, combine the date puree, eggs, oil, milk, and vanilla extract. Incorporate the liquid ingredients into the dry ingredients and spread the mixture over the berries. 

Bake in the oven for 15 to 20 minutes or until a toothpick inserted into the center comes out clean. 

Allow to cool slightly and serve upside down with a drizzle of maple syrup to taste.