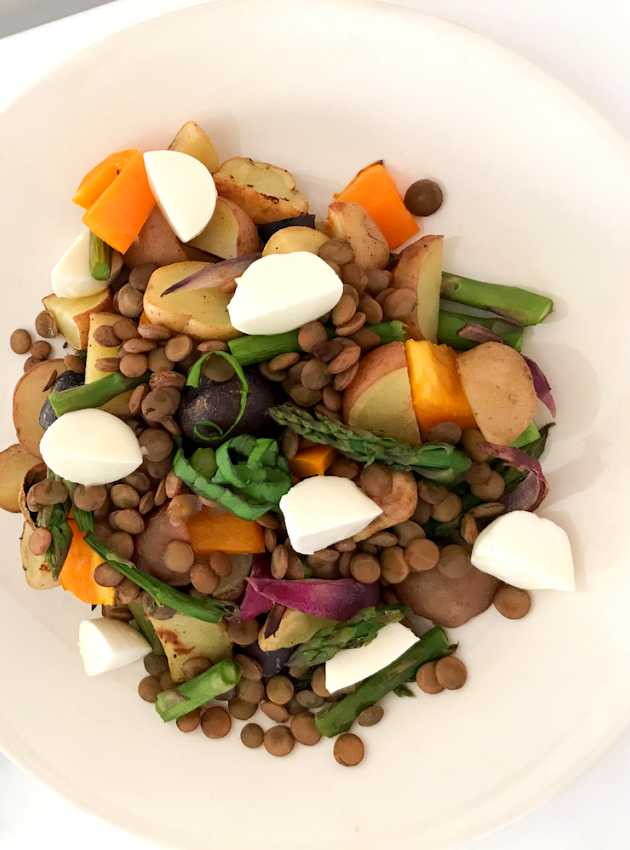 Discover the vibrant Lentil and Asparagus Salad: a balanced blend that delights the eyes and boosts health with the nourishing fibers of lentils and the colorful brilliance of asparagus. An explosion of benefits for your taste buds and vitality!
Ingredients
Salad
8 small potatoes, cut into cubes
15 ml (1 tbsp) oil
15 ml (1 tbsp) Dijon mustard
Salt and pepper to taste
About 10 asparagus spears, cut into sections
½ onion, diced
1 orange bell pepper, diced
540 ml (1 can) green lentils
65 ml (1/4 cup) bocconcini, cut into small pieces
Fresh coriander (optional)
Grated lemon zest (optional)
Dressing
15 ml (1 tbsp) Dijon mustard
30 ml (2 tbsp) olive oil
15 ml (1 tbsp) water
15 ml (1 tbsp) lemon juice
1 clove garlic, chopped
5 ml (1 tsp) maple syrup (or honey)
Salt and pepper to taste
Preparation
Preheat the oven to 425°F. On a baking sheet lined with parchment paper or aluminum foil, spread potatoes, oil, Dijon mustard, salt and pepper to taste and mix well. Put in the oven for about 10 minutes.
Remove the baking sheet from the oven and add the asparagus, onions and green bell pepper. Mix and put back in the oven for about 15 minutes.
Once cooked, let cool for a few minutes then mix in a bowl with the feta cheese and lentils.
Mix all the ingredients for the vinaigrette, then toss with the salad. Add coriander and lemon zest, if desired.