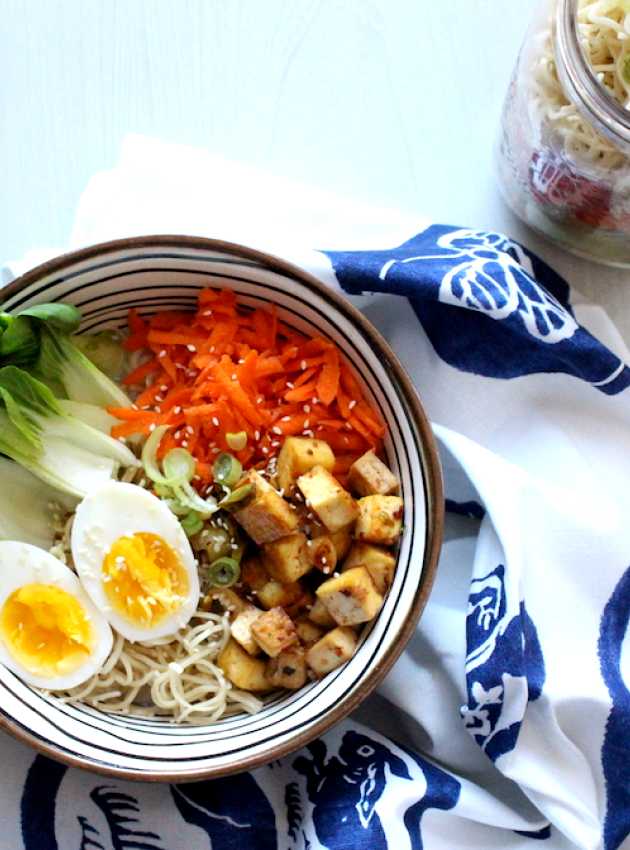 Explore the authentic flavors of Asia with our homemade Ramen Soup recipe. Indulge in a comforting bowl filled with expertly prepared noodles, flavorful broth, and mouthwatering toppings.
Ingredients
Approximately 115g of ramen or chow mein noodles
15 ml (1 tbsp) of sesame oil
½ block of tofu (225g)
2,5 ml (½ tsp) of sambal oelek
2 cloves of garlic, chopped
15 ml (1 tbsp) of fresh ginger
15 ml (1 tbsp) of tamari
1 green onion, chopped
2 cups of vegetable broth
Approximately 4 or 5 mini Bok Choy, cut in 4 lenghtwise
125 ml (1/2 cup) of grated carrots
2 hard boiled eggs
Green onion to decorate (optional)
Sesame seeds (optional)
Preparation
Cook noodles in boiling water during 1 minute, then drain.
In a pan, at medium heat, grill the tofu in oil during about 5 minutes. Stir frequently.
Add the sambal oelek, the garlic, the ginger, the tamari and the green onion to the pan. Cook during 5 minutes.
During this time, steam cook the bok choy during about 5 minutes. You can also choose to add the uncooked bok choy to the pan with the rest of the ingredients.
Heat up the broth on the stove. Assemble the soup in a large bowl by adding all the ingredients to the heated broth. Sprinkle green onions and sesame seeds on the soup if desired. Enjoy!
Notes
If you are making this recipe for lunch the next day, put all your ingredients in a Masson jar, except the broth. Add the broth right before serving.