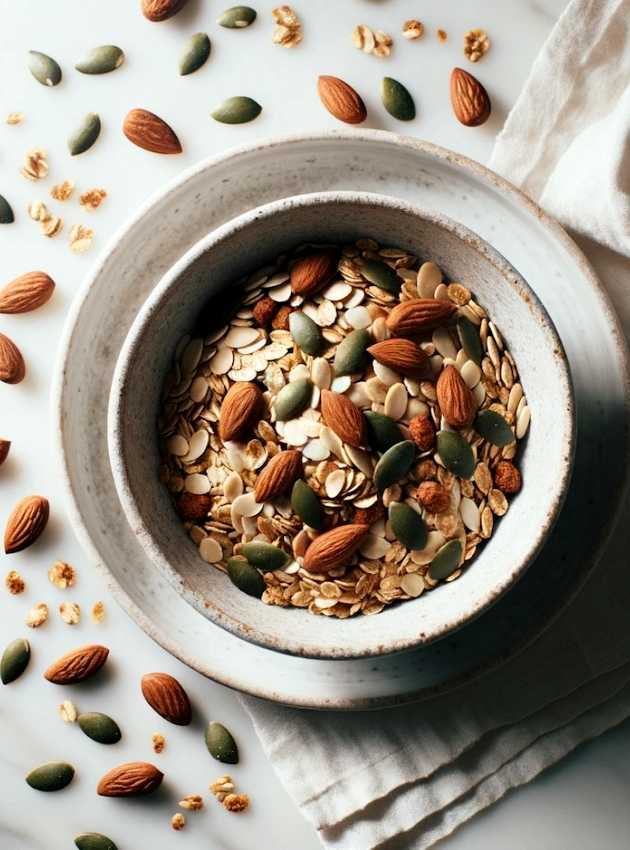 Explore the wholesome goodness of our Homemade Granola recipe. Bursting with natural flavors and nutritious ingredients, this granola is perfect for a delightful and nourishing breakfast. Create your batch today!
Ingredients
Dry ingredients
625 ml (2 1/2 cups) oatmeal 
175 ml (3/4 cup) pumpkin seeds 
175 ml (3/4 cup) almonds cut into pieces 
175 ml (3/4 cup) chopped walnuts 
60 ml (1/4 cup) sesame seeds 
30 ml (2 tbsp) ground flaxseed 
5 ml (1 tsp) cinnamon 
2.5 ml (1/2 tsp) nutmeg 
A pinch of salt 
125 ml (1/2 cup) All bran buds (optional) 
Wet ingredients 
45 ml (3 tbsp) of maple syrup 
15 ml (1 tbsp) margarine or coconut oil 
5 ml (1 tsp) vanilla essence 
45 ml (3 tbsp) applesauce 
45 ml (3 tbsp) peanut butter 
Optional: Add cranberries, raisin sec, dried apricots, sunflower seeds, coconut or dried apples
Preparation
Preheat the oven to 325°C and put aluminum foil or parchment on a baking sheet. 
Put all the wet ingredients in a cauldron over medium heat and boil for 5 minutes, stirring. 
In a large bowl, mix dry ingredients, then add the wet mixture to the dry ingredients and mix well. 
Spread on the baking sheet and cook for 40 minutes, taking out every 10 minutes to brew. 
Let cool completely, then enjoy on yogurt with fruit or with milk.