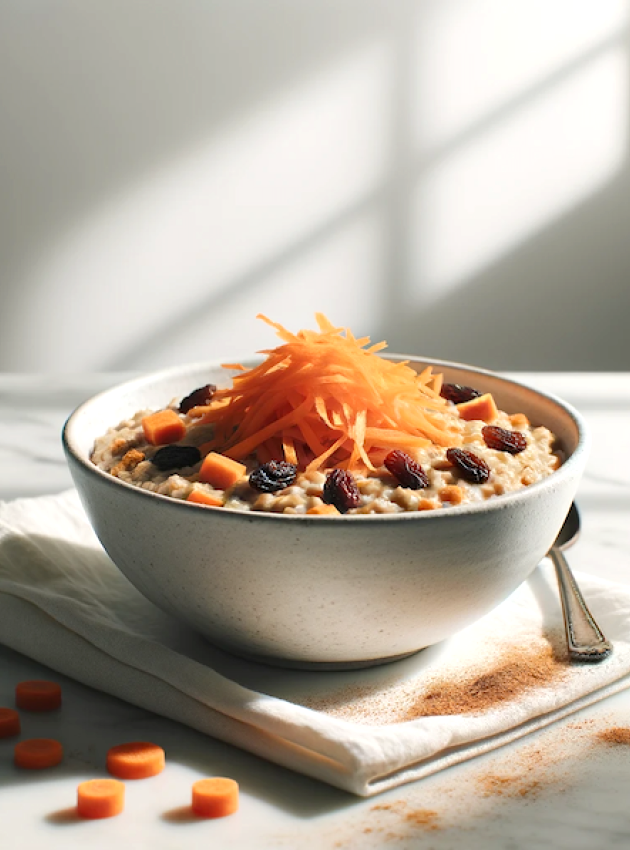 Discover our delicious recipe for Carrot Cake Oatmeal. Indulge in the comforting sweetness of this nutritious breakfast that combines the flavors of carrot cake with the creamy texture of oatmeal. A healthy and delightful treat to start your day off right.
Ingredients
250 ml (1 cup) oatmeal
375 ml (1 1/2 cups) water or milk (unsweetened soybeans or cow's milk)
1 medium raw carrot, grated (about 1/2 cup)
125 ml (1/2 cup) grated apples
5 ml (1 tsp) ground cinnamon
2.5 ml (1 tsp) powdered nutmeg
2.5 ml (1 tsp) vanilla extract Pumpkin seeds (optional)
Apple slices (optional)
Preparation
In a pot, combine all ingredients except pumpkin seeds and apple slices and bring all to a boil.
Lower the temperature to low heat and cook it for about 5 minutes, stirring occasionally. If you find the oatmeal too thick, add a little bit of milk.
Garnish with pumpkin seeds and apple slices, if desired.