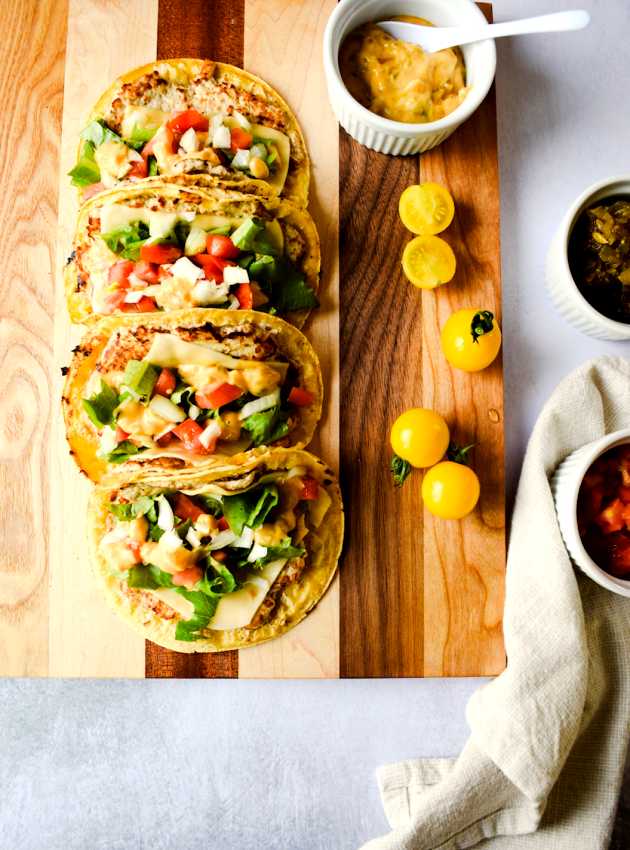 A simple, fun, and nutritious recipe that will please everyone and truly takes very little time to make.
Ingredients
454 g (1 lb) of ground turkey, or chicken
1 egg
2.5 ml (½ tsp) of chili powder
1.25 ml (¼ tsp) of cumin
1.25 ml (¼ tsp) of smoked paprika
Pepper and salt, to taste
5 corn tortillas (6 inches)
For the sauce:
30 ml (2 tbsp) of ketchup
30 ml (2 tbsp) of light mayonnaise
30 ml (2 tbsp) of relish
15 ml (1 tbsp) of mustard
15 ml (1 tbsp) of plain yogurt, 0%
Toppings:
100 g or 5 slices of light cheddar cheese (1 slice of 20 g / tortilla)
2-3 lettuce leaves, finely chopped
1 tomato, diced
½ small yellow onion, finely chopped
20 pickle slices, optional
Note: You can totally use 6-inch whole wheat tortillas if you have no gluten intolerance/allergy. It is even possible to make a vegetarian version with rehydrated textured vegetable protein as a replacement for ground meat.
Preparation
In a medium bowl, mix the meat, egg, and seasonings.
Spread about ⅓ cup of this mixture on each tortilla, leveling it with your fingers. Set aside.
In a small bowl, prepare the sauce by mixing all the ingredients. Set aside.
In a large non-stick skillet, place a tortilla, meat side down. Cook over medium-high heat for about 2 minutes, then flip.
Add a slice of cheese on the cooked meat and continue cooking for an additional minute to brown the tortilla and slightly melt the cheese. Set aside.
Repeat the process for each tortilla.
When serving, garnish each tortilla with some sauce and top as desired.
Notes
Keeps 3-4 days in the refrigerator in an airtight container, separated from toppings.