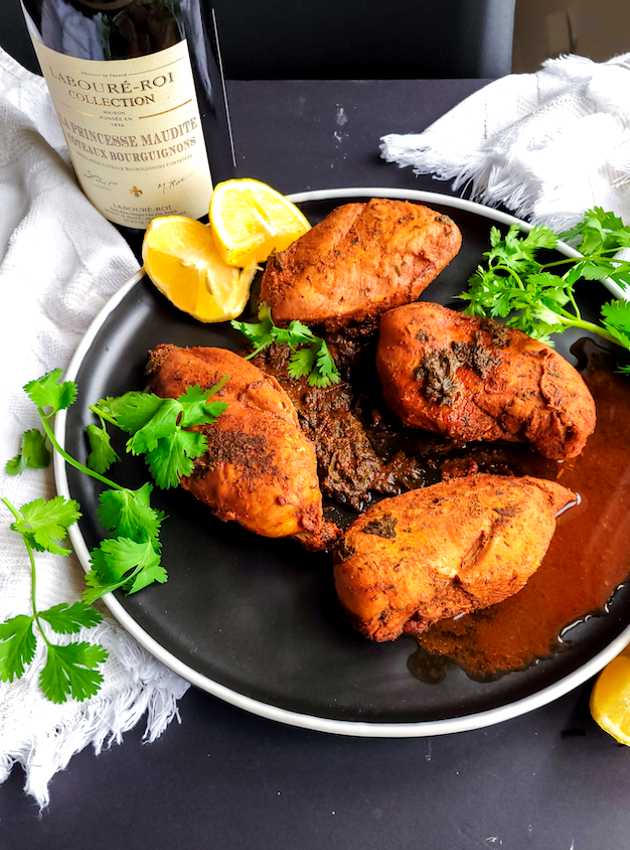 Ingredients
30 ml (2 tbsp) chopped fresh coriander
30 ml (2 tbsp) lemon juice
30 ml (2 tbsp) sweet paprika
30 ml (2 tbsp) chopped fresh parsley
15 ml (1 tbsp) olive oil 
15 ml (1 tbsp) dried oregano 
5 ml (1 tsp) ground cumin
Salt and pepper to taste
4 chicken breasts (approx. 1 kg / 2.2 lb)
125 ml (1/2 cup) dry red wine 
250 ml (1 cup) chicken broth (no onions or garlic) (check the ingredient list)
2 bay leaves
5 ml (1 tsp) Sriracha-type hot sauce (optional)
Note: FODMAP-free chicken broth from FODY Foods is excellent. Koala Pro members even enjoy a discount on their products. 
Preparation
Preheat the oven to 350°F (180°C).
In a large bowl, mix the coriander, lemon juice, paprika, parsley, olive oil, oregano, cumin, salt and pepper to make a marinade.
Add the chicken breasts and coat well with the marinade. Refrigerate for 30 minutes.
In a large ovenproof skillet over medium heat, spray with oil spray. Grill the marinated chicken breasts for 3-4 minutes on each side.
Add the red wine and simmer for 2 minutes to allow the alcohol to evaporate.
Stir in the chicken broth, bay leaves and hot sauce. Cover the pan with aluminum foil.
Bake for about 30 minutes, turning the chicken breasts halfway through, until they have lost their pink tinge and are golden brown.
Remove the chicken from the oven and let stand, covered, for a few minutes before serving.
Notes
Can be kept for 5 days in an airtight container in the refrigerator. Can be frozen for up to 3 months.