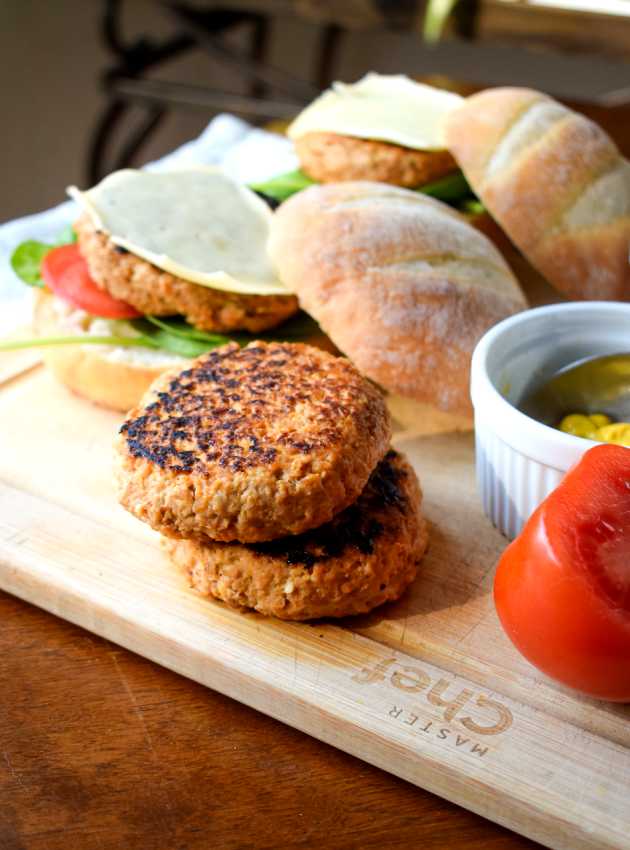 This recipe is ideal for individuals who are mindful of their meat consumption and wish to reduce it without eliminating it completely. By balancing your diet with more plant-based proteins, you can enjoy a delicious alternative to the classic burger while increasing your fiber intake and discovering new flavors.
Ingredients
1 large egg

454 g (1 lb) ground chicken or turkey

335 ml (1 ⅓ cups) textured vegetable protein (TVP)

60 ml (¼ cup) chili sauce or ketchup

15 ml (1 tbsp) milk (or broth of your choice)

15 ml (1 tbsp) reduced-sodium soy sauce

15 ml (1 tbsp) Worcestershire sauce

2.5 ml (½ tsp) garlic powder (or 1 fresh garlic clove)

2.5 ml (½ tsp) onion powder

3-4 drops liquid smoke

Pepper, to taste

10 ml (2 tsp) cooking oil
Preparation
In a large bowl, mix all the ingredients.
Shape the mixture into patties of approximately ⅓ cup each with your hands and place them on a clean plate.
Preheat a skillet over medium heat with a little oil. Add the patties, making sure they don't touch, and cook for about 5-6 minutes until they are golden brown on the bottom.
Flip the patties and continue cooking for an additional 4-5 minutes. Ensure that the center of the patties is cooked thoroughly before removing them from the skillet.

Note: You can also cook the patties on a barbecue. They are perfect for burgers or can be enjoyed on their own, served with potatoes and a summer vegetable salad.
Notes
Store in an airtight container in the refrigerator for 3-4 days or in the freezer for 2-3 months.