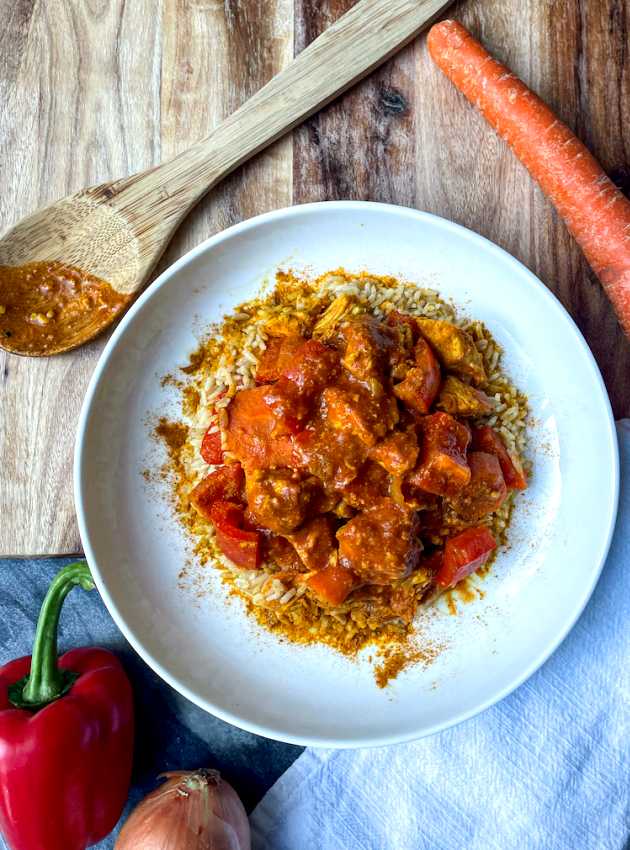 Relish in the tender, succulent chicken infused with exotic coconut goodness, creating a delightful and easy-to-make culinary escape. A taste of the tropics in every bite!
Ingredients
1 large yellow onion, chopped 
2 large red peppers, diced 
2 large carrots, peeled and sliced
2 cloves garlic, chopped 
400 mL (1 ¾ cups) light coconut milk 
60 mL (¼ cup) tomato paste 
15 mL (1 tbsp) ginger, chopped 
15 mL (1 tbsp) curry powder
10 mL (2 tsp) paprika 
10 mL (2 tsp) ground turmeric 
2.5 mL (½ tsp) ground cayenne pepper (optional)
454 g (1 lb) boneless, skinless chicken breasts, cut into cubes 
Salt and pepper, to taste
Preparation
In a slow cooker, combine all ingredients except chicken cubes. 
Add chicken cubes and coat well in the mixture. 
Cover and simmer on high for 1 hour.
Add salt and pepper to taste. 
Serve with brown rice.
Note: Recipe can also be baked at 375°F (190°C) for 1 hour.
Notes
Can be kept for 3 days in the refrigerator or 3 months in the freezer.