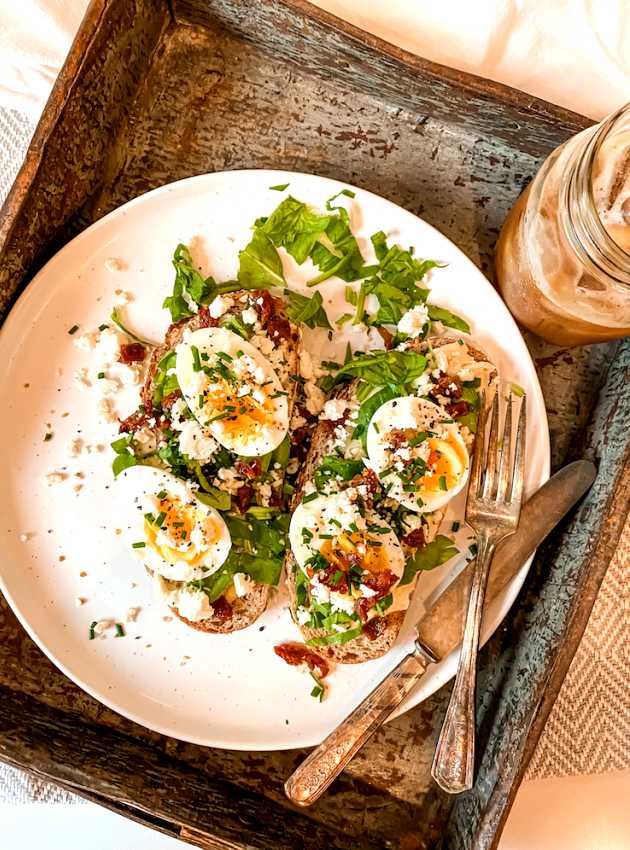 An option for a delicious, quick, and easy savory breakfast! Whether it's for weekday mornings or a relaxed weekend brunch, your taste buds will be satisfied with this delicious recipe for open-faced egg sandwiches.
Ingredients
2 slices of multigrain bread
2 eggs
30 ml (2 tablespoons) hummus (homemade or store-bought)
A handful of chopped baby spinach
30 ml (2 tablespoons) low-sodium feta cheese, crumbled
1 sun-dried tomato, chopped
Fresh herbs, to taste (chives, basil, parsley, etc.)
2.5 ml (½ teaspoon) Everything Bagel seasoning (see Note)
 
Note: If you don't have this spice blend, you can replace it with sesame seeds and dehydrated minced onions, or for another version, with a bit of sumac spice.
Preparation
Place the eggs in a saucepan filled with water and bring to a boil. Cook for 7 minutes, then rinse the eggs under cold water before peeling them (This step can be prepared in advance)
Toast the bread slices, then spread the hummus on top. Add the baby spinach, feta cheese, sun-dried tomato, fresh herbs, and Everything Bagel seasoning. Top with one egg per toast.