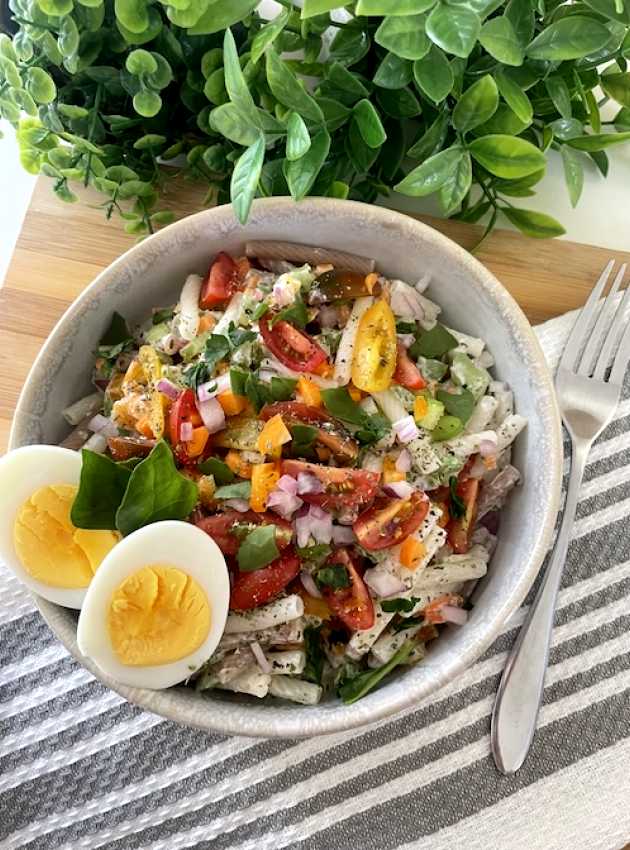 Looking for a quick lunch idea for the week? This pasta salad, rich in fibre and protein, is perfect for you!
Ingredients
For the salad:
375 ml (1 ½ cups) dry lentil and quinoa pasta

4 hard-boiled eggs, cut into pieces

3 stalks of celery, finely chopped

2 medium carrots, finely chopped

¼ red onion, finely chopped

½ yellow bell pepper, finely chopped

60 ml (¼ cup) finely chopped green olives
For the dressing:
187 ml (¾ cup) plain 0% Greek yogurt

60 ml (¼ cup) light mayonnaise

45 ml (3 tbsp) white wine vinegar

30 ml (2 tbsp) maple syrup

15 ml (1 tbsp) dried Italian herbs

5 ml (1 tsp) garlic powder

5 ml (1 tsp) Dijon mustard

Pepper and salt, to taste
Preparation
Cook the pasta according to package instructions. Drain and rinse with cold water.

In a large bowl, mix all the ingredients for the dressing. Season with salt and pepper to taste.

Add the pasta, eggs, and vegetables to the dressing. Mix well and enjoy cold.
Notes
Keeps for 4 days in the refrigerator.
Note: For better preservation, add the dressing just before eating.