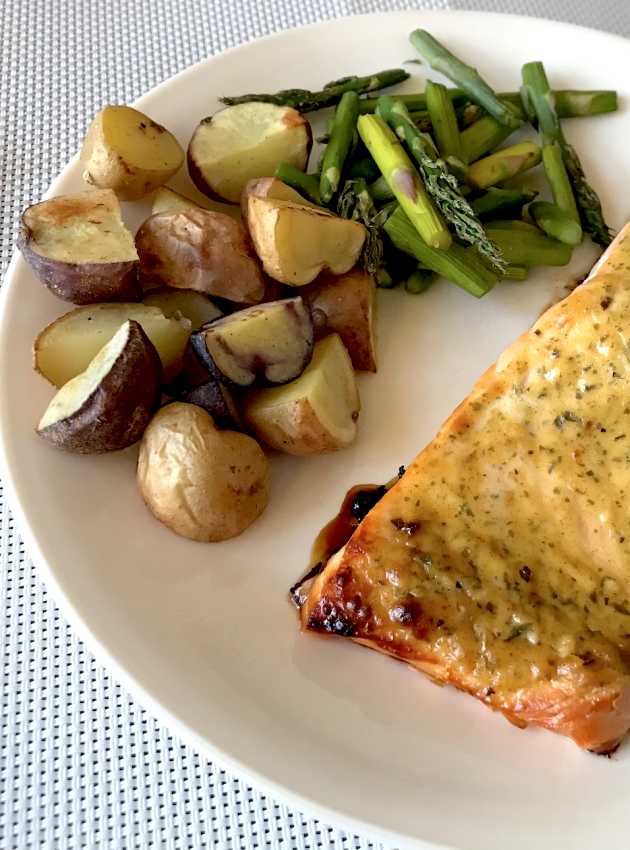 Indulge in the essence of gastronomy with our Dijon Salmon recipe. Savor the tender, juicy salmon infused with the captivating flavor of Dijon mustard, creating a delightful and sophisticated culinary experience. A refined dish that will surely tantalize your taste buds!
Ingredients
2 salmon fillets of about 150g each 
15 ml (1 tbsp) Dijon mustard 
5 ml (1 tsp) dried herbs 
Salt and pepper 
 Yogurt sauce 
60 ml ( ¼ cup) of natural Greek yogurt 
30 ml (2 tbsp) lemon juice 
15 ml (1 tbsp) chopped chives 
15 ml (1 tbsp) chopped fresh dill 
15 ml (1 tsp) of Dijon mustard 
Salt and pepper to taste
Preparation
Preheat the oven to 375 °F. 
Spread the salmon on a plate lined with aluminum foil and add the mustard, herbs, salt and pepper on top of it. 
Put in the oven for about 12 minutes or depending on the thickness of the fish and the desired cooking. 
Meanwhile, prepare the sauce by mixing all the ingredients.