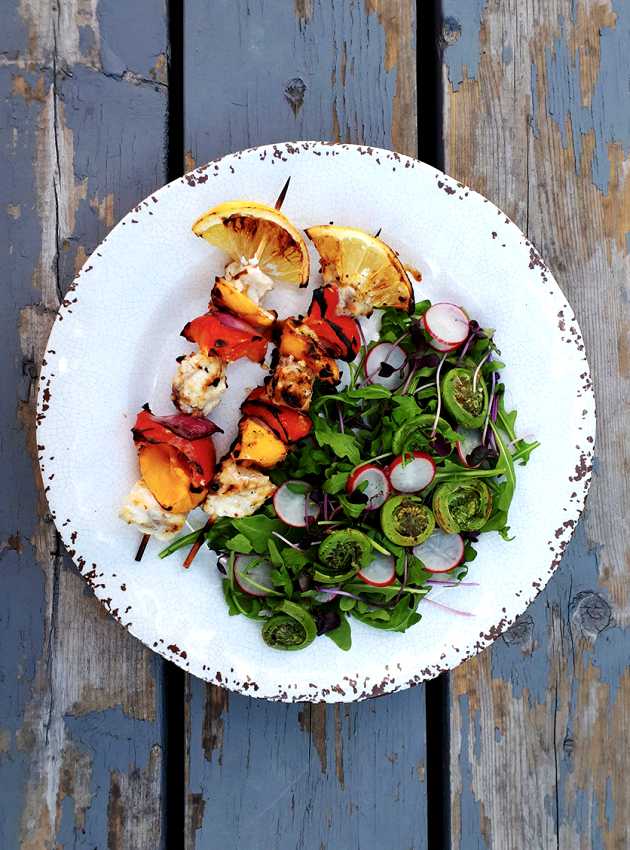 Explore our delightful recipe for Sweet Monkfish Skewers, a tantalizing blend of flavors. These succulent skewers offer a perfect balance of sweetness and tenderness, making them a must-try for seafood lovers.
Ingredients
Marinade
2.5 mL (1/2 tsp.) jarred ginger or 5 mL (1 tsp.) freshly minced ginger
5 mL (1 tsp.) jarred garlic or 2 cloves minced garlic
45 mL (3 tbsp.) oil
45 mL (3 tbsp.) honey or maple syrup
Zest of one lemon
Salt and pepper to taste
Skewers
500 g (approximately 1 lb) monkfish, cut into chunks (often available at your local fishmonger)
2 small yellow mangoes, cut into chunks (or one large mango)
1 large red bell pepper, cut into chunks
1/2 red onion, cut into chunks
One lemon, zested and cut into quarters
6 long skewers
Preparation
In a bowl, mix the marinade ingredients. Add the monkfish pieces and coat them well. Cover and marinate in the refrigerator for about 30 minutes. 
Preheat the barbecue to medium heat and oil the grill. 
Thread the fish and vegetables onto the skewers, alternating between them. Finish with a lemon zest quarter.
Grill the skewers for approximately 3-4 minutes on each side, brushing them with the remaining marinade.
Serve with your choice of accompaniment. I chose a rocket salad with black radish sprouts, drizzled with balsamic vinaigrette. I garnished it with roasted radishes and fiddlehead ferns.