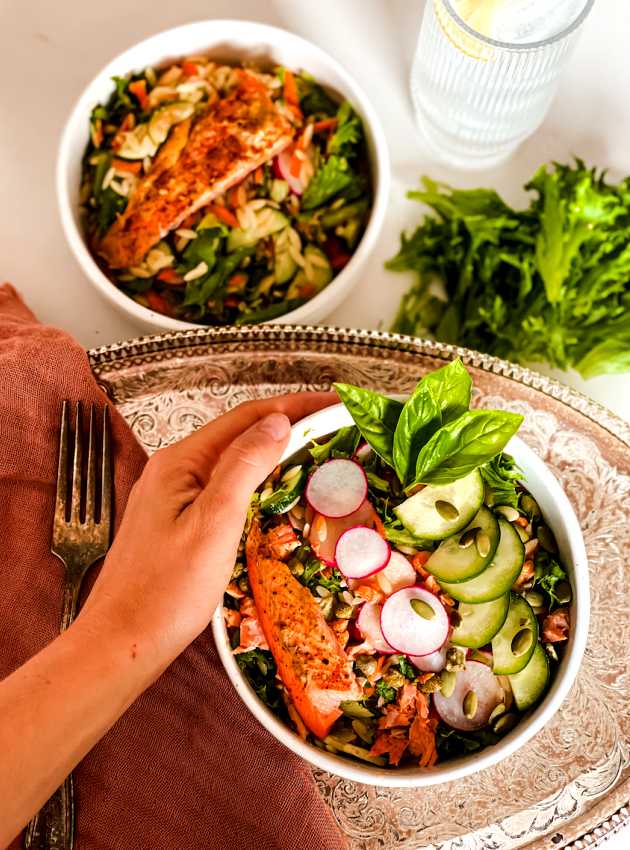 A refreshing and light salad, perfect for quick meals and lunches. To vary the flavors, you can also try it with strawberry balsamic vinaigrette! Note that if you don't have any specific digestion issues, you can use pasta of your choice and vegetables from your fridge! Adding ground flaxseeds to our salads boosts our fiber and omega-3 intake without altering the flavors of our dish!
Ingredients
Trout
2 trout fillets, about 120 g each
10 ml (2 tsp) Dijon mustard
Pepper, to taste
Salad
180 ml (¾ cup) cooked gluten-free orzo (or ⅓ cup dry) (see Note)
125 ml (½ cup) grated carrot
125 ml (½ cup) cucumber, sliced into half rounds
125 ml (½ cup) radishes, sliced
30 ml (2 tbsp) raw pumpkin seeds
30 ml (2 tbsp) ground flaxseeds
15 ml (1 tbsp) capers
750 ml (3 cups) mixed greens of choice (lettuce, spinach, arugula, etc.)
Fresh herbs of choice, to taste (Basil, dill, parsley, cilantro)
Vinaigrette
30 ml (2 tbsp) olive oil or garlic-infused olive oil
15 ml (1 tbsp) nutritional yeast
15 ml (1 tbsp) balsamic vinegar
10 ml (2 tsp) Dijon mustard
10 ml (2 tsp) maple syrup
Pepper and salt, to taste
Note: If you don't have orzo on hand, you can also use rice. If you don't have FODMAP concerns, you can use regular orzo.
Preparation
Preheat the oven to 400°F (200°C). On a parchment-lined baking sheet, place the trout fillets. Spread Dijon mustard over the trout. Season with pepper to taste, then bake for 12 minutes.
In a large bowl, mix all the salad ingredients.
In a small bowl, mix all the vinaigrette ingredients, pour over the salad, and toss.
Crumble the trout into the salad or serve directly on the bed of greens divided into two bowls and enjoy!
Notes
The cooked fish can be stored for 2 days in an airtight container in the refrigerator. It's preferable to keep the salad separate from the vinaigrette.