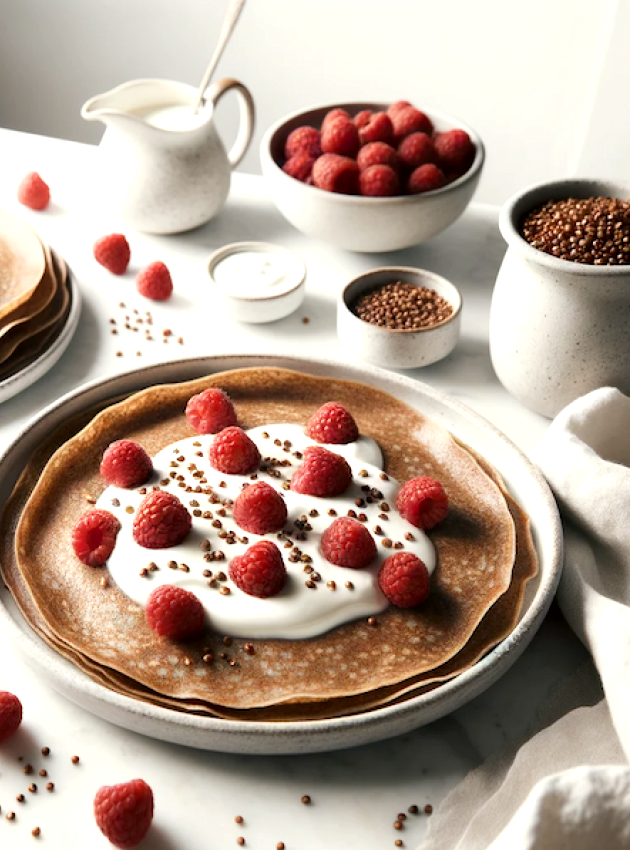 Discover our delightful recipe for buckwheat pancakes paired with Greek yogurt spread. Enjoy these light and gluten-free pancakes with a creamy topping for a delicious experience.
Ingredients
Spread
125 ml (½ cup) of Greek yogurt
5 ml (1 tsp) of cinnamon
5 ml (1 tsp) of vanilla extract (optional)
30 ml (2 tbsp) of natural peanut butter
Pancakes
1 cup of buckwheat flour
500 ml (2 cups) of water
125 ml (½ cup) of fresh or frozen raspberries (optional)
15 ml (1 tbsp) of coconut oil or margarine 
Preparation
Put all the ingredients of the spread in a bowl and mix well.
In an oiled frying pan, place about 1 ladle of pancake mix and cook on medium heat for about 3 minutes on each side.
Top off with fruits of your choice and a bit of maple syrup!