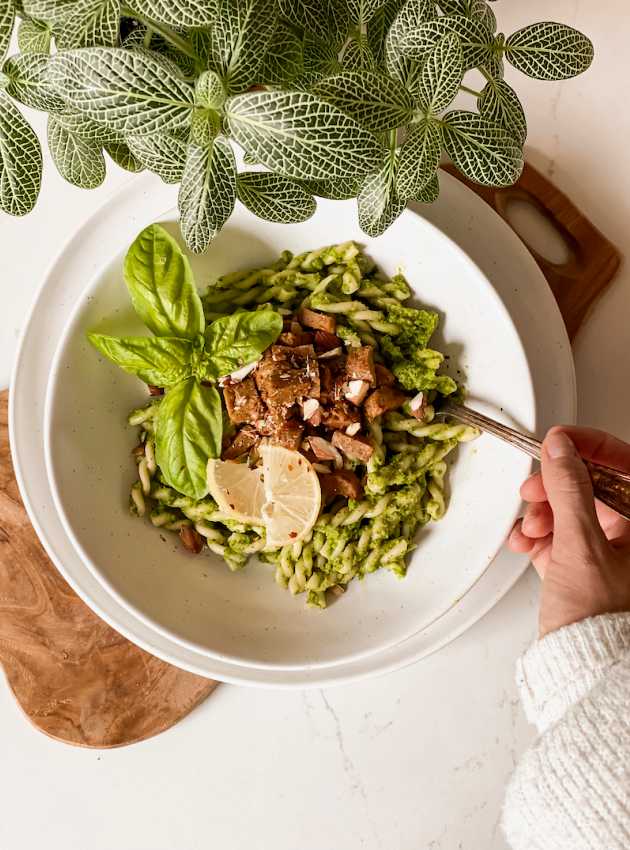 Elevate your dining experience with our Broccoli Pesto Pasta recipe. Indulge in the delectable fusion of vibrant broccoli pesto, creating a truly delightful and nourishing culinary delight.
Ingredients
240 g of pasta of your choice
1 head of broccoli cut into large pieces
500 ml (2 cups) of baby spinach
250 ml (1 cup) of fresh basil
180 ml (¾ cup) of milk (or unsweetened non-dairy milk)
2 cloves of chopped garlic
Juice of one lemon
2.5 ml (1/2 tsp) of salt
Pepper to taste
Topping
Protein of your choice (tofu, tempeh, chicken, vegetarian sausage)
45 ml (3 tbsp) of chopped toasted almonds
Lemon wedges
Dried crushed peppers (optional)
Fresh basil (optional)
Note: We opted for Gusta sausages.
Preparation
In a pot, bring water to a boil and cook the pasta according to the package instructions. 
Add the broccoli 5 minutes before the end of cooking. Drain and separate the pasta from the broccoli.
Place the broccoli, baby spinach, basil, vegetable drink, garlic cloves, lemon juice, salt, and pepper in a blender until smooth. Add more liquid if necessary.
In the same pot as before, combine the pasta and the sauce, then divide into bowls. 
Add the desired toppings.