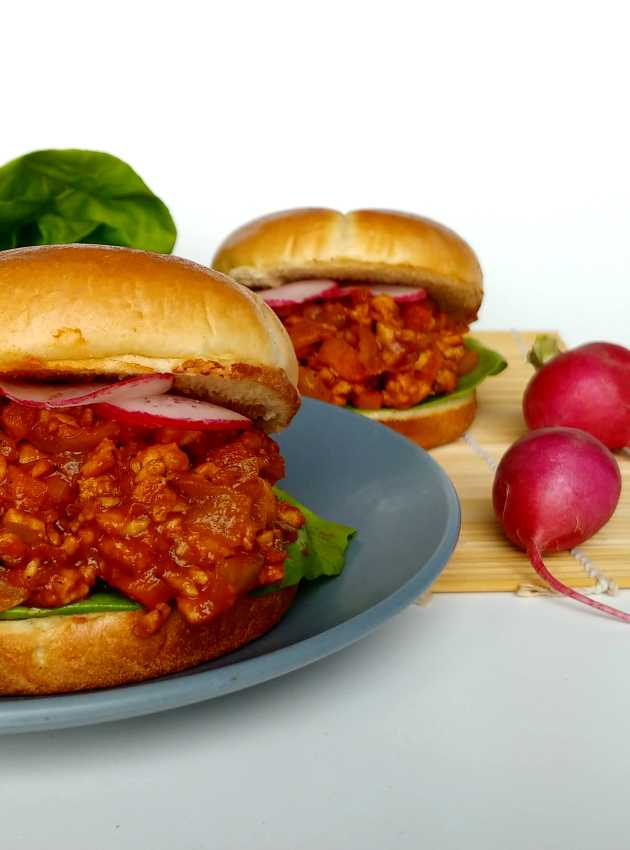 Here are some comforting and tasty burgers featuring tempeh and lots of good vegetables! Will you dare to discover tempeh?
Ingredients
15 ml (1 tbsp) canola oil
1 medium onion, finely diced
1 bell pepper (color of your choice), finely diced
1 large carrot, diced
227 g (8 oz) tempeh (see note)
500 ml (2 cups) water
60 ml (¼ cup) tomato paste
45 ml (3 tbsp) maple syrup
15 ml (1 tbsp) white vinegar
15 ml (1 tbsp) low-sodium soy sauce
5 ml (1 tsp) Dijon mustard
5 ml (1 tsp) smoked paprika
Pepper, to taste
To serve :
4 hamburger buns (see note)
Lettuce
Thinly sliced radishes
Note: Prepared from fermented soybeans, tempeh stands out for its nutty taste and firm texture. In addition to being a source of vegetable protein, tempeh also contains an interesting amount of fiber as the whole bean is preserved in its preparation unlike tofu.
 
Available in grocery stores, whole grain hamburger flatbreads are also an excellent option to increase fiber and reduce carbohydrates!
Preparation
In a skillet with high rims, heat oil over high heat, add the vegetables and cook for 10 minutes, stirring until lightly browned.
Finely crumble the tempeh with your fingers directly into the pan. Add the water and the rest of the ingredients. Season with pepper and mix. Continue cooking for 10 minutes.
To serve, garnish the hamburger buns with the preparation, lettuce leaves and radishes.