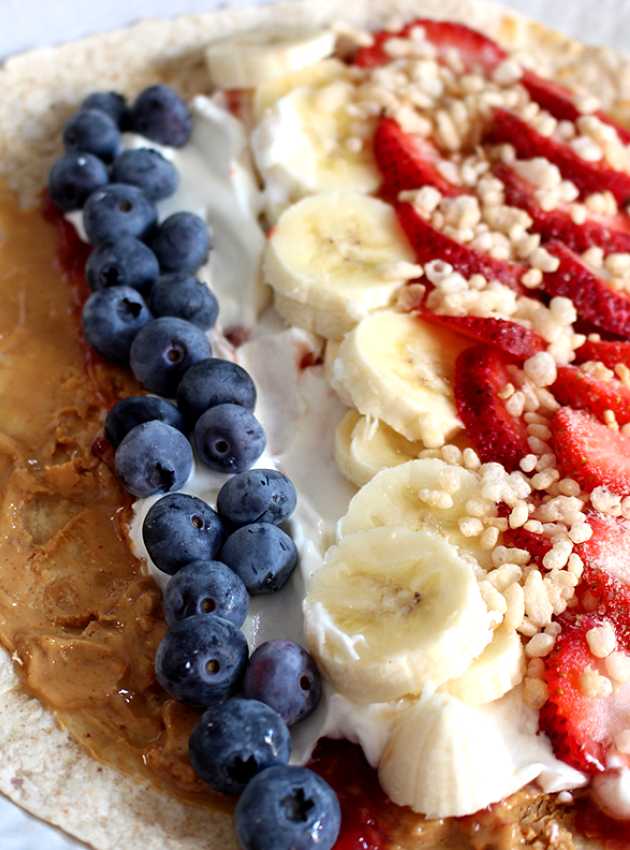 Discover our delicious and healthy breakfast tortilla recipe, packed with protein, a touch of sweetness, and a good amount of fiber. A nourishing and satisfying morning treat to kickstart your day on the right note.
Ingredients
1 whole wheat tortillas 
15 ml (1 tbsp) of natural peanut butter 
15 ml (1 tbsp) Greek yogurt 
15 ml (1 tbsp) low sugar jam (about 30 calories per tbsp.) 
½ sliced banana 
60 ml (¼ cup) blueberries 
60 ml (¼ cup) sliced strawberries 
60 ml (¼ cup) of rice Krispies
Preparation
Spread peanut butter and jam on the whole wheat tortilla 
Add the Greek yogurt to the center of the tortilla 
Spread fruit and rice Krispies on top. Roll firmly the tortilla, fold the edges and continue to roll tight.