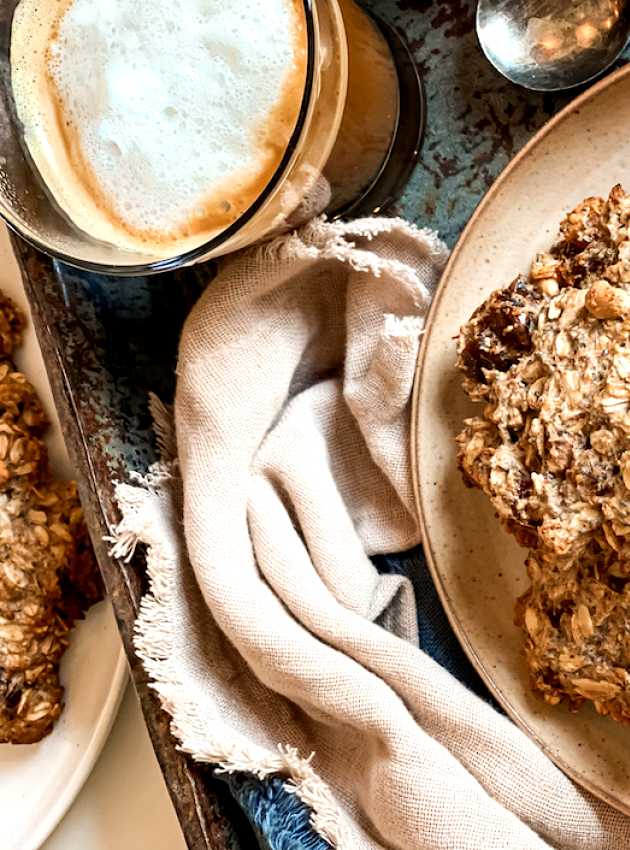 These breakfast patties are perfect for busy mornings. For a complete breakfast, you can accompany them with Greek yogurt to increase the protein intake!
Ingredients
Dry ingredients
250 ml (1 cup) rolled oats
125 ml (1/2 cup) whole wheat flour
80 ml (1/3 cup) dried fruit of your choice (dates, apricots, raisins)
80 ml (1/3 cup) peanuts (or other nuts of choice)
30 ml (2 tbsp) flaxseed
30 ml (2 tbsp) chia seeds
10 ml (2 tsp) cinnamon
5 ml (1/2 tsp) baking powder
Pinch of salt
Wet ingredients
1 ripe banana, mashed
60 ml (1/4 cup) maple syrup
60 ml (1/4 cup) natural peanut butter, melted
1 egg
Preparation
Preheat the oven to 375°F (190°C) and place the rack in the center of the oven. Line a baking sheet with parchment paper.
In a large bowl, combine all dry ingredients and set aside.
In another bowl, whisk wet ingredients and then incorporate into dry ingredients with a fork until dough forms.
Shape into 6 balls and place on a baking sheet. Press balls with a fork to form patties.
Bake for about 15 minutes or until lightly browned.
Serve with Greek yogurt for a complete breakfast!