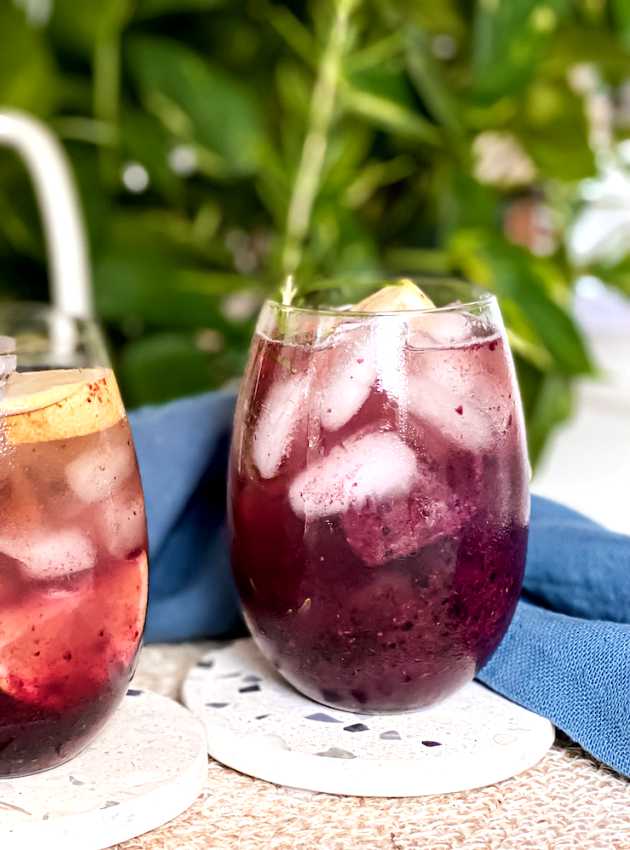 If you're looking for a refreshing drink that's full of antioxidants and delicious, you'll love this blueberry ginger iced tea! If you're not a fan of ginger, you can simply leave it out and enjoy it just as much!
Ingredients
Tea
1 L (4 cups) of water
2 white tea bags
500 ml (2 cups) fresh or frozen blueberries
2 peaches, peeled and cubed or 80 ml (⅓ cup) frozen peaches
30 ml (2 tbsp) maple syrup
juice of 1 lemon
15 ml (1 tbsp) chopped ginger
Assembly
Ice cubes
Lemon wedges
Blueberries
Fresh rosemary sprig (optional)
Preparation
In a pot, heat 1 L (4 cups of boiling water) to about 98 degrees Celsius or just before boiling. Remove from heat and steep the 2 tea bags until the water is lukewarm (about 20 minutes).
Meanwhile, place blueberries, peaches, maple syrup, lemon juice and ginger in blender. Blend until smooth.
For an even smoother consistency, you can strain the mixture, otherwise go directly to step 4.
Pour the blueberry mixture into 6 glasses, followed by the lemon wedges and ice. Add tea, stir, then garnish with blueberries and rosemary sprig if desired.