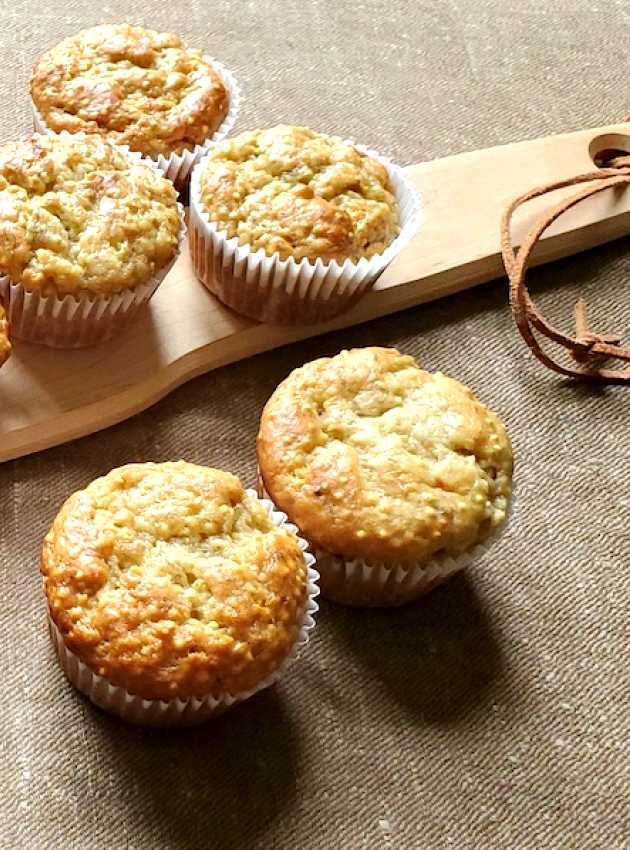 Discover the benefits of a delicious recipe for Banana Millet Muffins, combining flavor and nutritional value. These nutritious muffins feature a balance of ingredients, with a moist texture and a wealth of fiber, vitamins, and minerals. Perfect for an energizing and satisfying snack.
Ingredients
Dry ingredients :
125 ml (½ cup) millet
375 ml (1.5 cups) all-purpose flour
125 ml (½ cup) wheat germ
160 ml (⅔ cup) white sugar
5 ml (1 tsp) baking soda
Wet ingredients:
4 ripe bananas, mashed
60 ml (¼ cup) vegetable oil
125 ml (½ cup) plain Greek yogurt, 0% M.F.
1 egg
Preparation
Preheat the oven to 350°F (180°C). Oil a 12-muffin pan, set aside.
Heat a skillet over medium-high heat, toast the millet, stirring constantly for 3-5 mins, the millet will give off a nutty smell.
In a large bowl, combine all dry ingredients, set aside.
In a medium bowl, combine all wet ingredients. Pour over dry ingredients and mix just until all ingredients are incorporated.
Divide mixture among pans.
Bake for 25 minutes, then let cool.
Conservation
Can be kept for 4 days or 2 months in the freezer.