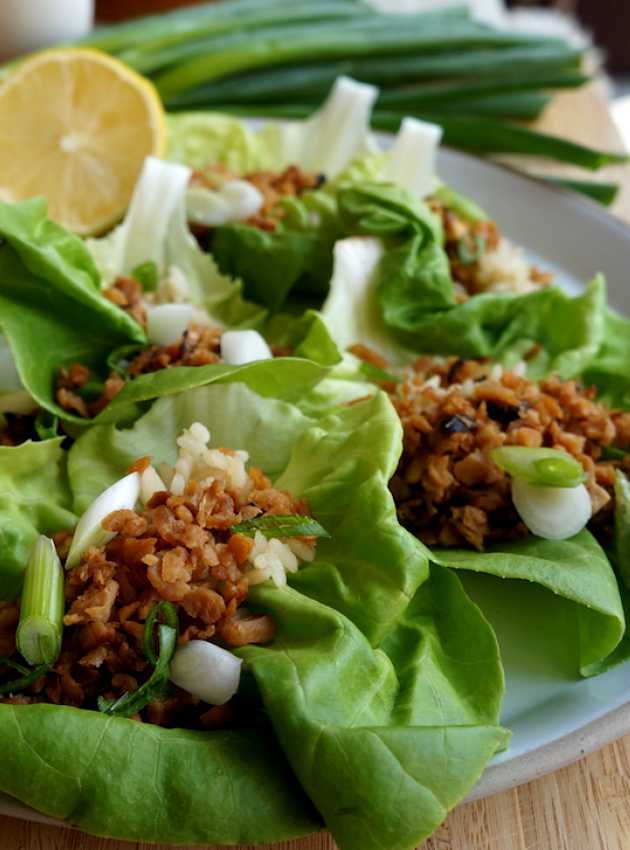 Craving a fresh and light meal? Try these Asian-inspired lettuce wraps! Vegetarian-friendly, these healthy and delicious wraps will delight your taste buds.
Ingredients
Filling
10 ml (2 tsp) sesame oil
1 clove garlic, minced
5 ml (1 tsp) fresh ginger, minced
A pinch of red pepper flakes
250 ml (1 cup) textured vegetable protein (TVP)
15 ml (1 tbsp) soy sauce
4 rehydrated and roughly chopped shiitake mushrooms
4 shallots, sliced diagonally
Spicy sauce
60 ml (4 tbsp) 0% plain Greek yogurt
10 ml (2 tsp) sriracha
10 ml (2 tsp) lemon juice
Preparation
In a large non-stick skillet, heat the sesame oil over low heat. Add the garlic, ginger, and red pepper flakes, and cook for 5 minutes. 
Meanwhile, rehydrate the textured vegetable protein (TVP) with water or your choice of broth (each cup of TVP requires 7/8 cup of liquid). 
Rehydrate the shiitake mushrooms in a bowl of boiling water. Once they have absorbed the water, roughly chop them. 
Add the rehydrated TVP and shiitake mushrooms to the skillet. 
Add the sliced shallots and adjust the seasoning to taste. 
For the spicy sauce, combine all the ingredients and mix well. 
Serve on Boston lettuce leaves with rice on the side. Drizzle with the spicy sauce just before eating the wraps.