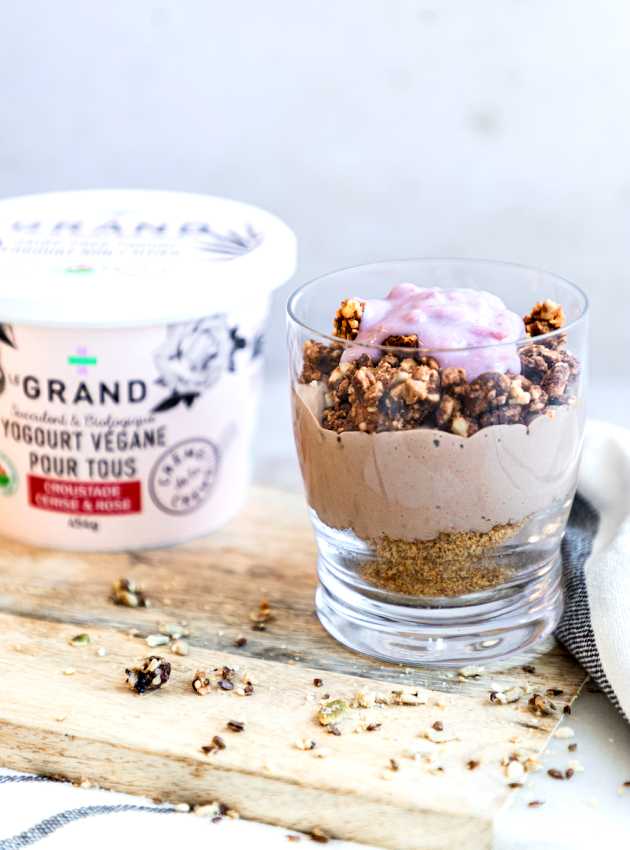 In partnership with our dear friends at Maison LeGrand, we have created this Valentine's-themed recipe to fill your heart with joy and gratitude, while nourishing your body with nutrient-rich ingredients. And the cherry on top? You don't even have to share!
Ingredients
125 ml (½ cup) graham cracker crumbs
30 ml (2 tbsp) ground flax seeds
15 ml (1 tbsp) vegan LeGrand Butter
100 g dark chocolate
15 ml (1 tbsp) unsweetened plant-based milk
300 g soft silken tofu, at room temperature (see note)
1 container (454 g) LeGrand Cherry and Rose Crumble Yogurt
Note: Using chilled tofu would cause the chocolate to solidify, hence the need to let it come to room temperature.
Preparation
In a small microwave-safe bowl, combine the graham cracker crumbs, ground flax seeds, and butter. Microwave for 30 seconds, then mix with a fork. Divide the mixture evenly among 4 dessert glasses and refrigerate.
In another small microwave-safe bowl, melt the chocolate and plant-based milk for 50 seconds, stirring halfway through. 
Transfer the mixture to a food processor, add the tofu, and blend until smooth. Add the yogurt and blend again.
Pour the mixture into the dessert glasses and refrigerate for at least 1 hour before serving. Garnish with fresh fruits or chocolate shavings, if desired.