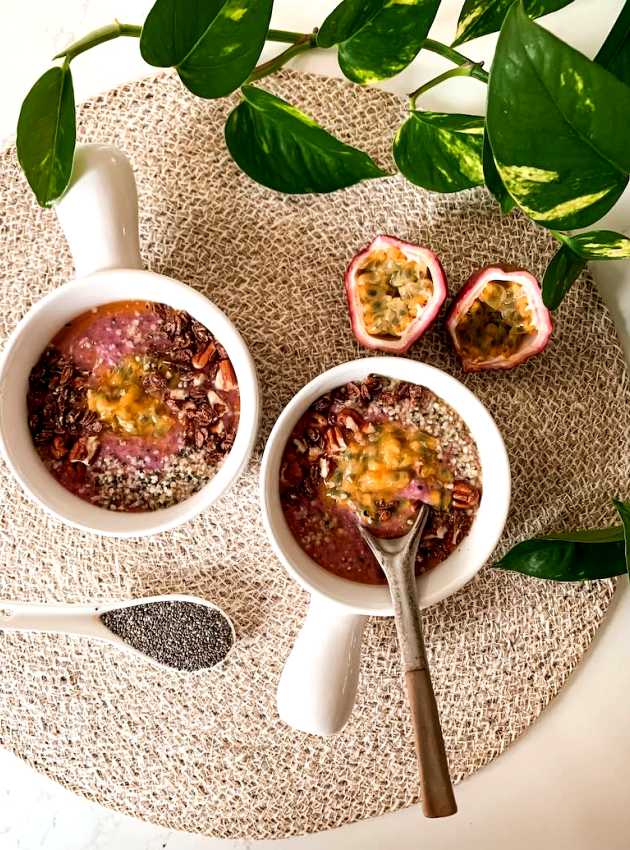 Discover our delicious recipe for Chia Seed Pudding with Tropical Fruits. This tasty and nutritious dessert combines the benefits of chia seeds with an explosion of tropical flavors. It's a suitable dessert for diabetics due to its fiber content.
Ingredients
2 bananas
250 ml (1 cup) frozen fruits of your choice (we used the Tropical dragon fruit mix)
250 ml (1 cup) milk (or non-dairy beverage)
60 ml (¼ cup) chia seeds
Topping
2 passion fruits
Chopped raw nuts of your choice (pecans, almonds, walnuts, etc.)
Seeds of your choice (hemp, pumpkin, sunflower, etc.)
Granola
Note: For a gluten-free version, make sure to choose a gluten-free granola.
Preparation
Place all smoothie ingredients in the container of an electric blender and blend until smooth.
Place in the refrigerator overnight.
Just before serving, add the desired topping.