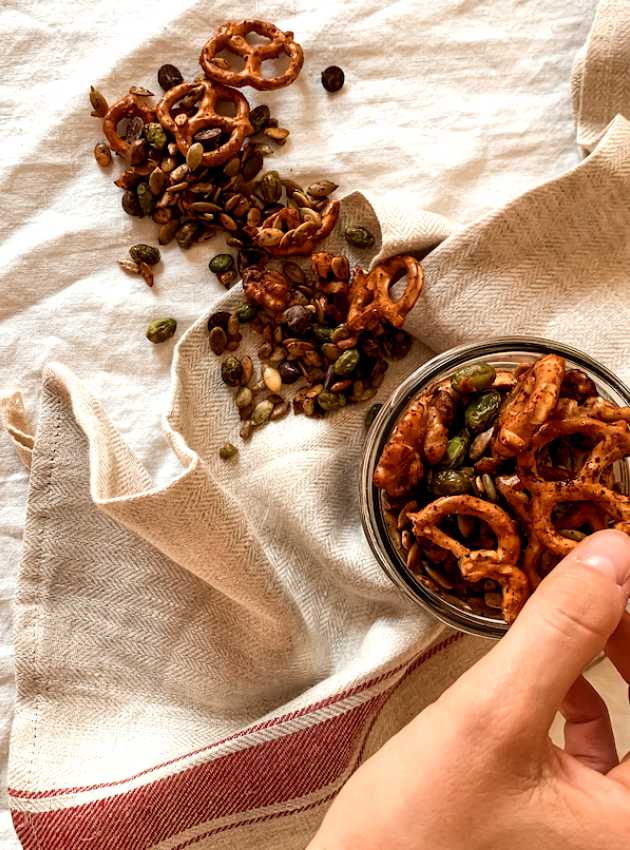 Discover our flavorful recipe for Low FODMAP Sweet and Spicy Trail Mix. Enjoy the perfect blend of savory and sweet flavors in this satisfying snack mix. Packed with nutritious ingredients, it's the ideal trail companion for a tasty and FODMAP-friendly treat!
Ingredients
30 ml (2 tbsp) maple syrup
15 ml (1 tbsp) vegetable oil
10 ml (2 tsp) chili powder
2.5 ml (½ tsp) salt
250 ml (1 cup) mini pretzels (see note)
180 ml (3/4 cup) thawed and well-dried edamame
125 ml (½ cup) raw pumpkin seeds
125 ml (½ cup) raw walnuts
80 ml (1/3 cup) raw sunflower seeds
60 ml (¼ cup) chocolate chips
Note: For a gluten-free option, use the Glutino brand.
Preparation
Preheat the oven to 160°C (325°F). 
In a large bowl, whisk together the maple syrup, vegetable oil, chili powder, and salt. 
Add the mini pretzels, edamame, pumpkin seeds, walnuts, and sunflower seeds. 
Line a baking sheet with parchment paper and spread the mixture on it. 
Bake for 40 minutes, stirring halfway through. 
Allow to cool slightly, then add the chocolate chips.