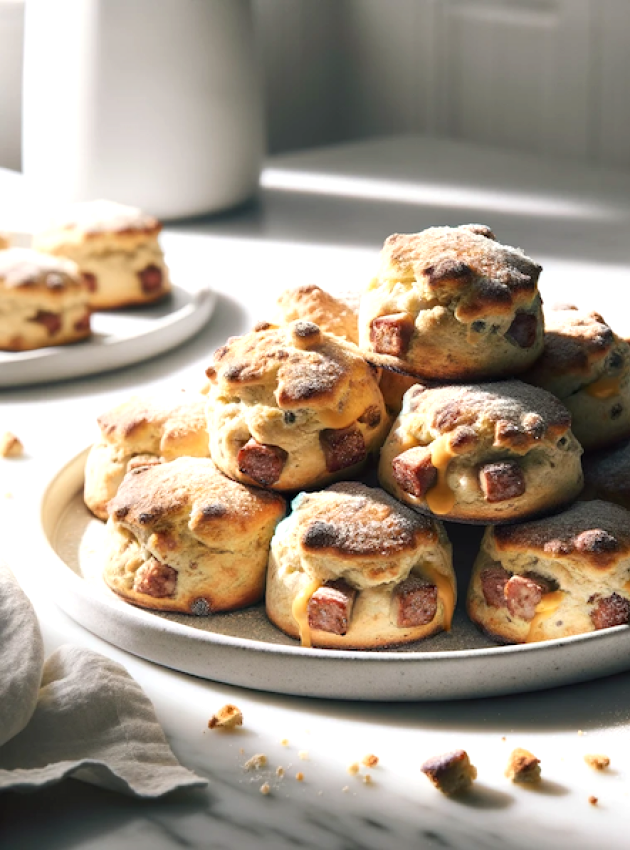 Elevate your breakfast game with our Scones with Vegan Sausages. Enjoy the perfect blend of savory vegan sausages and flaky scone goodness. A delectable and plant-based treat that will leave you craving for more!
Ingredients
375 ml (1 ½ cups) white flour
115g / 250 ml (1 cup) all-purpose flour
10 ml (2 tbsp) of baking powder
1 ml (¼ tsp) of salt
125 ml (1/2 cup) butter
1 chopped green onion
1 Germaine GUSTA sausage cut into small pieces
50 g of vegan cheese GUSTA Swisso
15 ml (1 tbsp) ground flaxseed
45 ml (3 tbsp) water
250 ml (1 cup) unsweetened soy milk
Preparation
Preheat oven to 375 ° F. Line a baking sheet with parchment paper and set aside.
In a large bowl, combine all the dry ingredients.
Add the melted margarine and mix it all until the ingredients are homogeneous. Put aside.
In a small ramekin, mix the water with the flax seeds, then let it rest for about 5 minutes.
Add this mixture to the rest of the ingredients of the bowl, and then knead the whole.
Using a tablespoon, make small balls and place them on the baking sheet and bake for about 15 minutes or until the scones are golden brown.