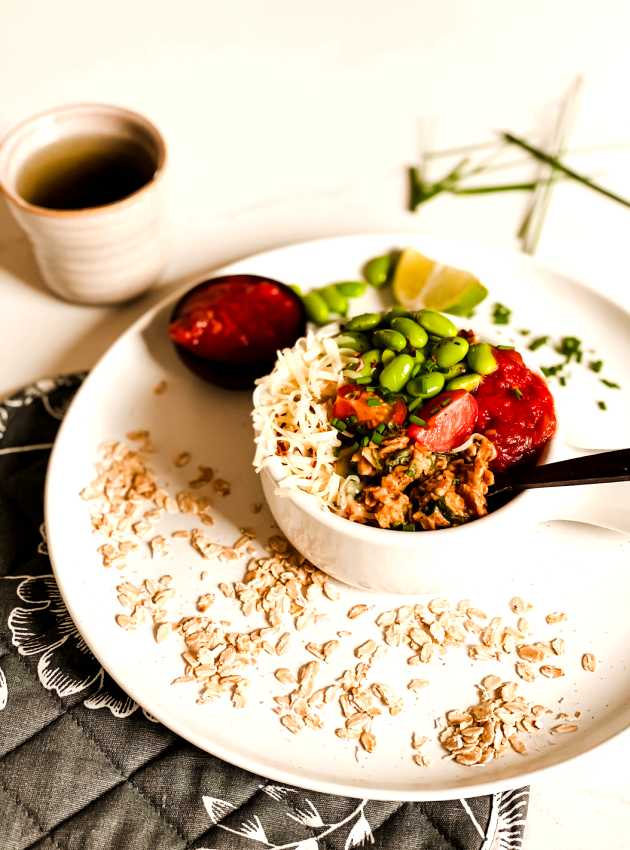 For anyone who prefers salty breakfasts to sweet ones, this is for you! Quick and easy to prepare, whether for Sunday brunch or weekday breakfast!
Ingredients
250 ml (1 cup) large-flake oats (see Note)
250 ml (1 cup) unsweetened almond beverage
250 ml (1 cup) sodium-reduced vegetable broth
250 ml (1 cup) chopped fresh baby spinach
125 ml (½ cup) grated cheese
30 ml (2 tbsp) ground flaxseed
10 ml (2 tsp) chili powder
125 ml (½ cup) edamame, shelled, frozen and thawed
Topping (optional)
Salsa
Fresh herbs
Lime wedge
Cherry tomatoes
Shredded cheese
Hot pepper flakes
Note : For a gluten-free option, choose certified gluten-free oats
Preparation
In a saucepan over medium-high heat, combine the oats, almond beverage and vegetable broth and simmer for 5 minutes.
Add spinach, cheese, flax seeds and chili powder, then continue cooking for 2 minutes.
Divide between two bowls and garnish with edamame and toppings of your choice.