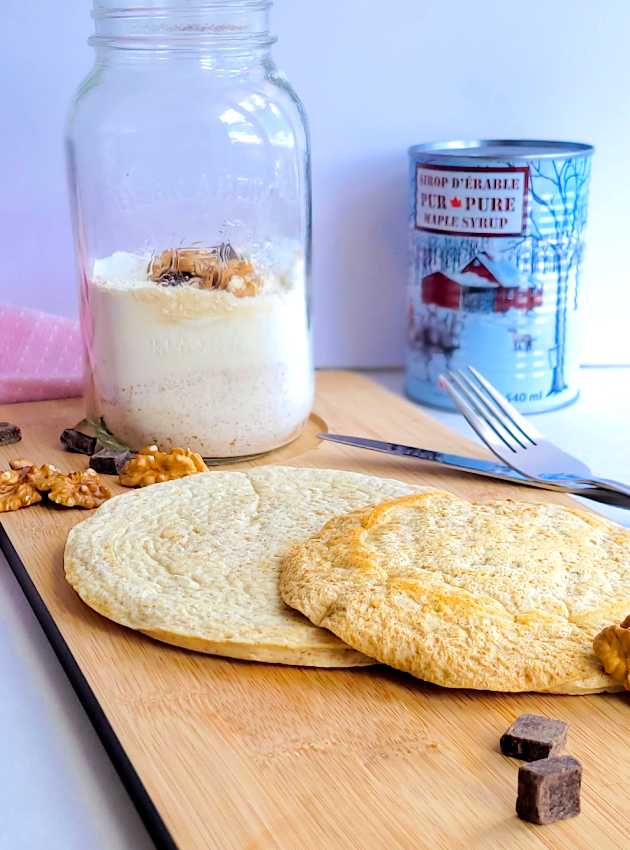 Nothing beats warm and delicious pancakes on a camping morning! This pancake mix, easy to prepare and transport, will make your life easier: just add water, and you're good to go. A protein and fiber-rich breakfast that will fuel your outdoor activities. Enjoy!
Ingredients
250 ml (1 cup) whole wheat flour
125 ml (1/2 cup) unflavored or vanilla whey protein powder
30 ml (2 tbsp) coconut flour
15 ml (1 tbsp) baking powder
2 ml (1/2 tsp) baking soda
A pinch of salt
Toppings (optional):
45 ml (3 tbsp) dark chocolate chips
Walnuts
Maple syrup
Preparation
Preparation of dry mix:
In a large airtight container (resealable plastic bag, large Mason jar, lunch container, etc.), mix all the ingredients except for the optional toppings using a wooden spoon or by vigorously shaking the container.
Pancake preparation:
In a medium bowl, pour approximately 1 1/2 cups (375 ml) of water into the dry mix and mix well until you get a smooth batter (See Notes).
In a lightly oiled medium-sized skillet over medium-high heat, pour 1/4 cup (60 ml) of the batter and cook until bubbles form on the surface, about 1 minute. Flip the pancake and cook until golden on the other side.
Repeat with the remaining batter to make all the pancakes.
Add desired toppings and serve.
Note: If you're using a Mason jar, you can pour the water directly inside and mix well. This reduces dishes! Make sure to use a large jar to have enough space to add water and stir. Otherwise, transfer the dry mix to a large bowl to perform this step.
Notes
The dry mix can be stored for up to 2 months in an airtight container at room temperature. Once cooked, the pancakes can be refrigerated for 4 days or frozen for up to 3 months.