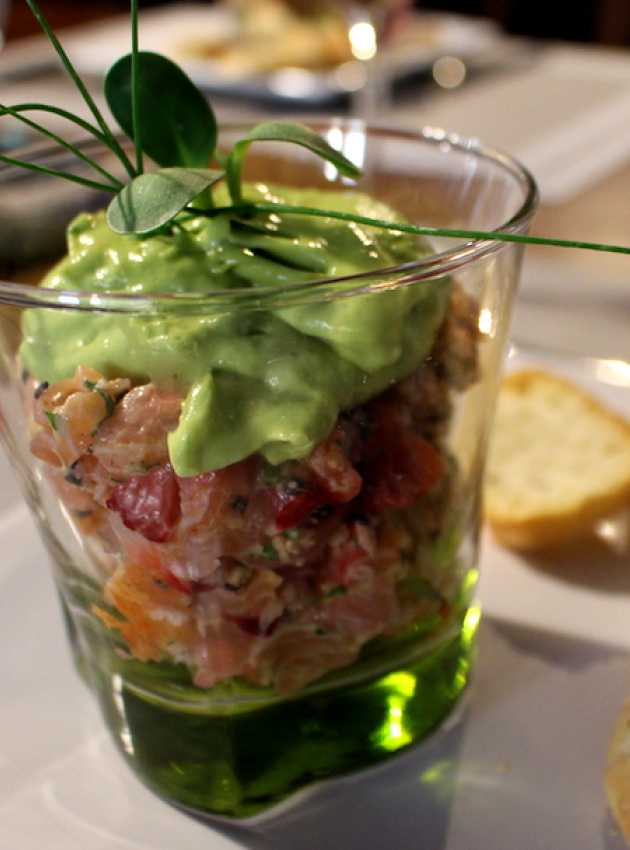 Dive into the fresh and vibrant flavors of our Salmon Tartare recipe. Made with premium-quality salmon, zesty seasonings, and a hint of citrus, this dish is a delightful option for seafood enthusiasts.
Ingredients
Salmon mixture
150 g fresh salmon, chopped in small cubes
45 ml (3 tbsp) mayonnaise
10 ml (2 tsp) Sriracha
The juice of half a lemon
A pinch of cayenne pepper
30 ml (2 tbsp) Panko bread crumbs
2 large strawberries
30 ml (2 tbsp) chives, chopped
5 ml (1 tsp) sesame seeds Salt and pepper, to taste
Avocado mousse
½ avocado
The juice of half a lemon
1 garlic clove
5 ml (1 tsp) Sriracha
15 ml (1 tbsp) 15% cream
Preparation
Salmon mixture
Delicately mix all the ingredients for the salmon mixture. Make sure you don't break the pieces of salmon.
Avocado mousse
Put all the ingredients in a blender. Add a bit of water (1 tbsp at the time) to reach the desired consistency.