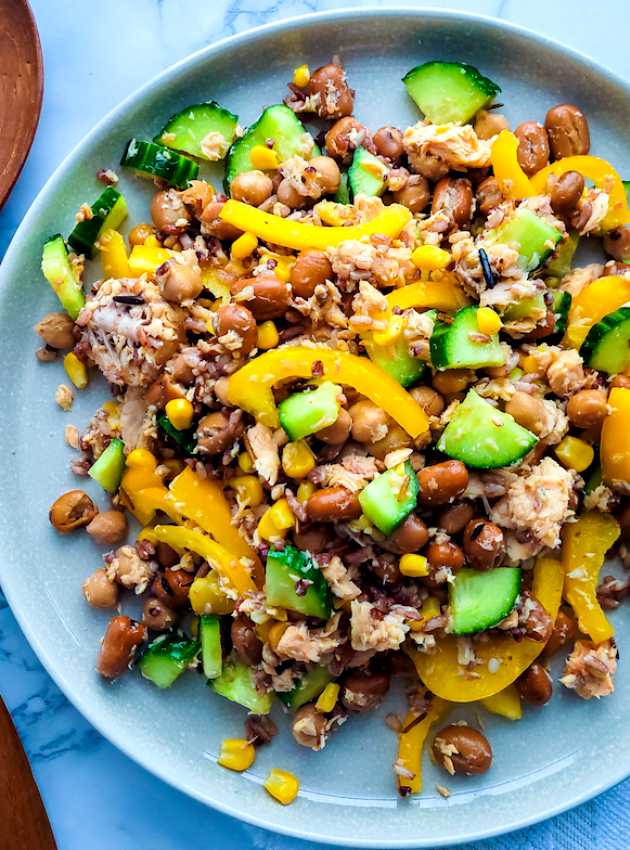 Simple, quick and delicious, this recipe is perfect for days when you're in a hurry. All you have to do is open a few cans, cut up vegetables, and you're done! If you don't have pre-cooked wild rice, you can always use an instant whole grain rice blend (e.g. Minute Rice® Long Grain and Wild Rice - Herbs in a Cup).
Ingredients
Vinaigrette :
45 ml (3 tbsp) lemon juice
15 ml (1 tbsp) balsamic vinegar
Pepper and salt to taste
1 can 540 ml (19 oz) fava beans, rinsed and drained 
2 cans (7 oz each) whole pink salmon, drained
1 cup cooked wild rice (or 1 Minute Rice® Long Grain & Wild Rice Herb Cup, 250 g | Walmart Canada)
1/2 yellow bell pepper, cut into strips
160 ml (2/3 cup) cucumbers, cut into thin half slices
160 ml (2/3 cup) frozen corn kernels, thawed
Preparation
In a small bowl, combine ingredients for dressing.
In a large bowl, combine remaining ingredients.
Stir the dressing into the salad.
Enjoy!
Conservation
Can be kept for 5 days in the refrigerator. Does not freeze.