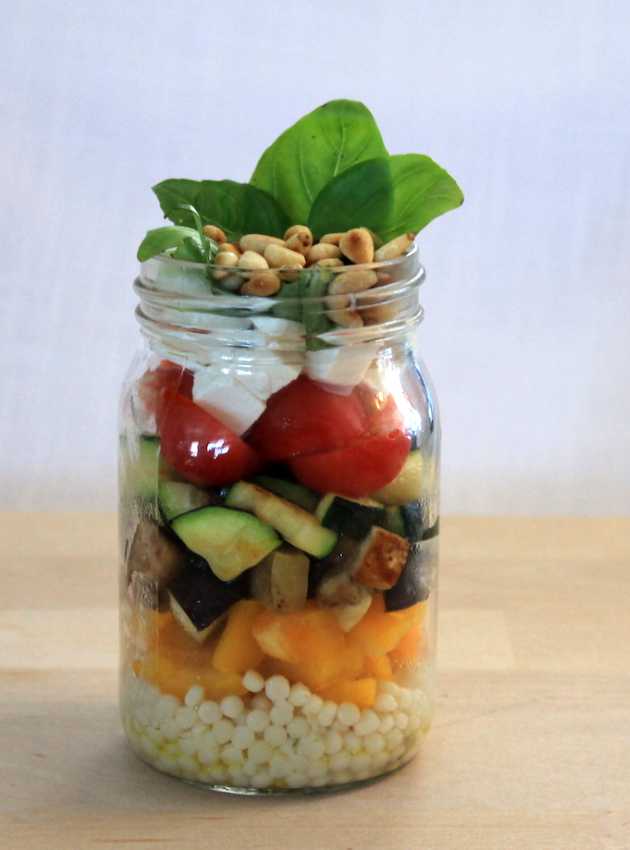 Explore the delightful flavors of our Ratatouille-style Mason Jar Salad. A colorful medley of fresh vegetables and aromatic herbs, perfectly layered for on-the-go goodness. Elevate your lunchtime with this wholesome and flavorful treat!
Ingredients
125 ml (1/2 cup) of Israeli couscous
30 ml (2 tbsp) of olive oil
Juice of 1 lemon
Herbes salées du Bas-du-Fleuve (a blend of salted herbs from the Lower St. Lawrence region in Quebec)
1 yellow bell pepper, diced
1/2 eggplant, diced
1 zucchini, diced
10 cherry tomatoes, quartered or halved
200 g of feta cheese
Freshly chopped basil, to taste
60 ml (1/4 cup) of toasted pine nuts
Preparation
Cook the Israeli couscous according to the package instructions. Set aside. 
Heat a pan over medium-high heat. Add 5 ml of oil. Cook the eggplant for 5 minutes without stirring too much. Remove from heat and set aside. Repeat this step with the zucchini. 
Divide the cooked couscous into 4 large Mason jars. Add 5 ml of oil to each jar and evenly distribute the lemon juice. Add a sprinkle of Herbes salées du Bas-du-Fleuve to each jar and stir. 
Evenly distribute the bell pepper, grilled eggplant, grilled zucchini, cherry tomatoes, feta cheese, basil, and pine nuts into each jar.