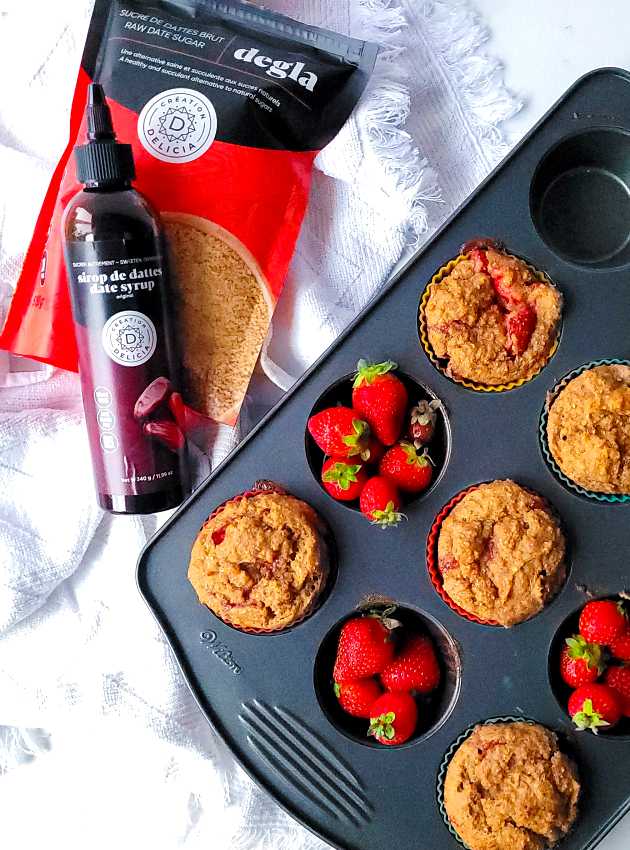 This delicious recipe for protein-packed muffins, made with TVP and the wonderful date products from Création Délicia, will keep you satisfied between meals for a long time! A delightful fusion, also rich in fiber, for a healthy and tasty experience.
Ingredients
375 ml (1 ½ cups) Textured Vegetable Protein (TVP)
310 ml (1 ¼ cups) whole wheat flour
60 ml (¼ cup) ground flaxseeds
60 ml (¼ cup) Degla date sugar (Création Delicia)
10 ml (2 tsp) baking powder
5 ml (1 tsp) vanilla extract
310 ml (1 ¼ cups) 0% M.F. protein milk (such as Fairlife or Lactancia UltraPur)
310 ml (1 ¼ cups) 0% M.F. plain Greek yogurt
60 ml (1/4 cup) date syrup (Création Delicia)
2 eggs
250 ml (1 cup) fresh strawberries, quartered
Preparation
Preheat the oven to 180°C (350°F).
Using a food processor, grind the TVP into powder.
In a large bowl, mix all the dry ingredients.
In another bowl, mix all the wet ingredients using an electric mixer until the mixture is smooth.
Gradually fold the dry ingredients into the wet ingredients, whisking until you have a homogeneous batter.
Gently fold in the quartered strawberries.
Place paper or silicone liners in the twelve cavities of a muffin tin and distribute the batter evenly.
Bake in the oven for 25 to 30 minutes, until a toothpick inserted into the center comes out clean. Remove from the oven and let cool on a wire rack.
Notes
Store in an airtight container in the refrigerator for up to 7 days. Freeze for up to 3 months.