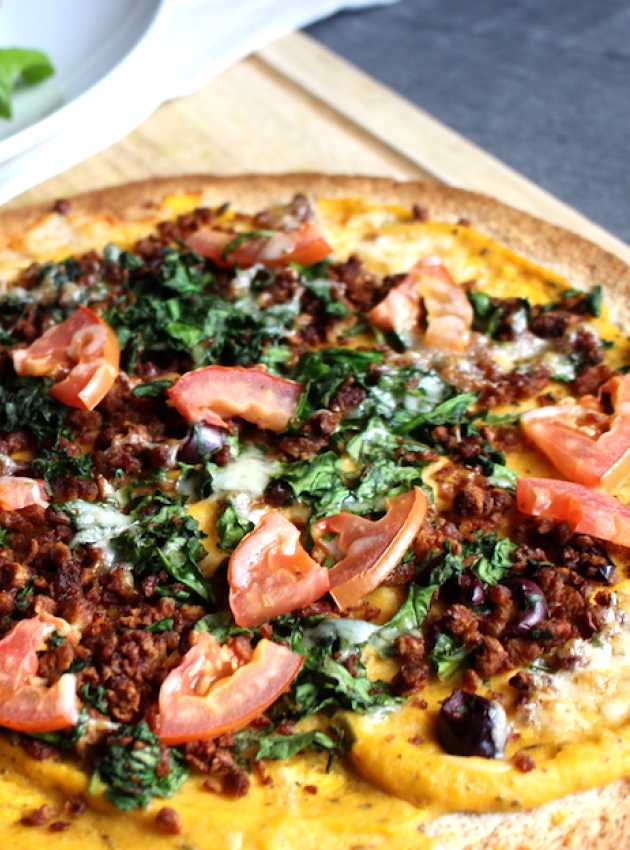 Discover the goodness of our Pizza with Butternut Squash Sauce recipe. A unique twist on a classic favorite, this pizza is not only delicious but also packed with the nutritional benefits of butternut squash.
Ingredients
Sauce
250 ml (1 cup) cooked butternut squash
30 ml (2 tbsp) nutritional yeast
15 ml (1 tbsp) red wine vinegar
15 ml (1 tbsp) olive oil
15 ml (1 tbsp) water
5 ml (1 tsp) dried herbs
1 ml (¼ tsp) salt
Pepper to taste
Pizzas
4 whole wheat tortillas
5 ml (1 tsp) oil
310 ml (1 ¼ cup) plant-based ground meat (or extra-lean ground meat)
250 ml (1 cup) packed chopped spinach
2 cloves garlic, minced
2 Italian tomatoes, diced
65 ml (1/4 cup) chopped black olives
190 ml (3/4 cup) shredded cheese (of your choice)
Preparation
After pre-cooking the butternut squash halves in the oven, cut in half lengthwise for 40 minutes at 400F (200C), scoop out 1 cup of cooked butternut squash and transfer it to a food processor or blender. 
Add the remaining ingredients and let the blender run for about 1 minute. Add water if the consistency is too thick for your taste. 
In a skillet, heat the oil over medium-high heat. Sauté minced garlic in the hot oil. Add plant-based ground meat or regular ground meat to the skillet and cook for about 5 minutes, stirring occasionally. 
Add chopped spinach and continue cooking over medium heat for 2 minutes. (More if using meat and it is still pink). 
Place the tortillas on oven-safe baking sheets then spread about 30 ml (2 tbsp) of sauce on each tortilla. Add the plant-based or regular meat mixture, diced tomatoes, chopped olives, and shredded cheese. 
Bake in the oven for approximately 8 minutes at 350F (175C) or until desired doneness is achieved.