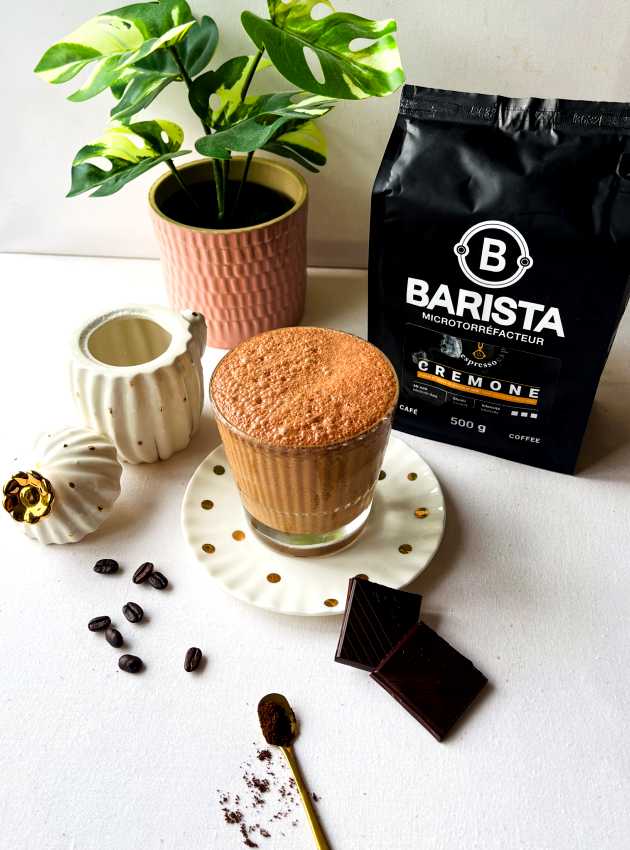 This mocha milkshake is perfect if you're looking for fall flavours but prefer cold beverages. With Barista's Cremone ground coffee with notes of dark chocolate, the taste of chocolate is present at every level in this recipe!
Ingredients
1 short espresso shot made with Barista's Cremone ground coffee
1 square (10g) of 75% dark chocolate
80 ml (⅓ cup) of 2% fat plain Greek yogurt
80 ml (⅓ cup) of unsweetened almond milk
15 ml (1 tbsp) of maple syrup
5 ml (1 tsp) of cocoa powder
4 ice cubes
Note: For a higher protein version, you can add ½ scoop of protein powder.
Preparation
In a small bowl, microwave the chocolate for 20 seconds to melt it. Add it to the espresso and mix well.
Blend all the ingredients in an electric blender until you achieve a smooth consistency.
Notes
Can be kept in the refrigerator for 1 day.