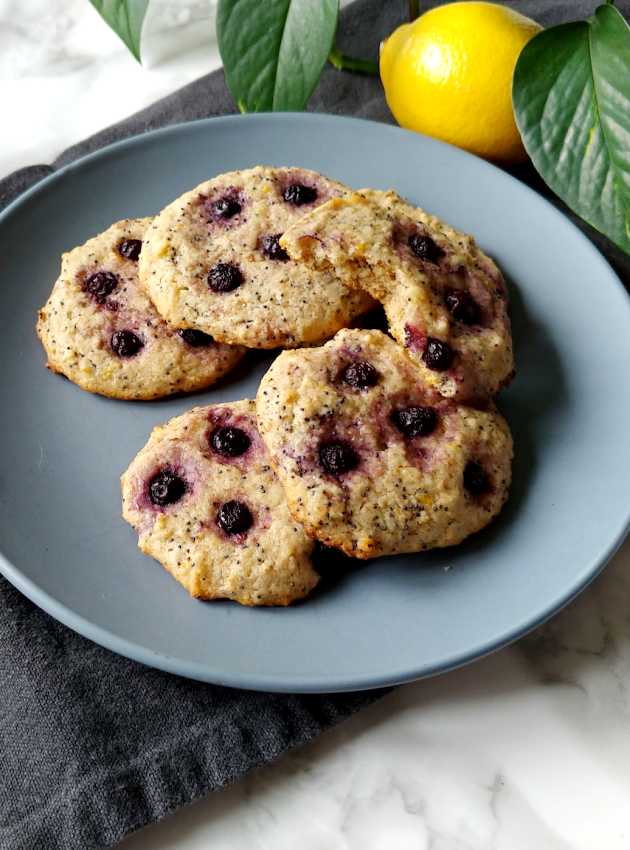 Believe me when I tell you that you should double the recipe. You'll want more of it. This blueberry breakfast or dessert is delicious, take my word for it!
Ingredients
60 ml (1/4 cup) margarine
30 ml (2 tbsp) brown sugar
30 ml (2 tbsp) sugar
Zest and juice of one lemon
5 ml (1 tsp) vanilla extract
250 ml (1 cup) whole wheat flour
2 ml (1/2 tsp) baking soda
30 ml (2 tbsp) poppy seeds (optional)
80 ml (1/3 cup) fresh or frozen blueberries
Preparation
Preheat the oven to 200°C (400°F). Line a baking sheet with parchment paper or a silicone baking mat.
In a microwave-safe medium bowl, melt the margarine for about 30 seconds.
Add the brown sugar, sugar, lemon zest, lemon juice, and vanilla extract. Mix well.
Incorporate the flour, baking soda, and poppy seeds.
Using wet hands, form 12 small cookies with approximately 30 ml (2 tablespoons) of dough and place them on the baking sheet. Distribute the blueberries on top of the cookies.
Bake in the oven for 8-10 minutes or until the bottoms of the cookies are lightly golden. Allow to cool before enjoying.
Notes
Keeps well for 3 days in an airtight container at room temperature or up to 2 months in the freezer.