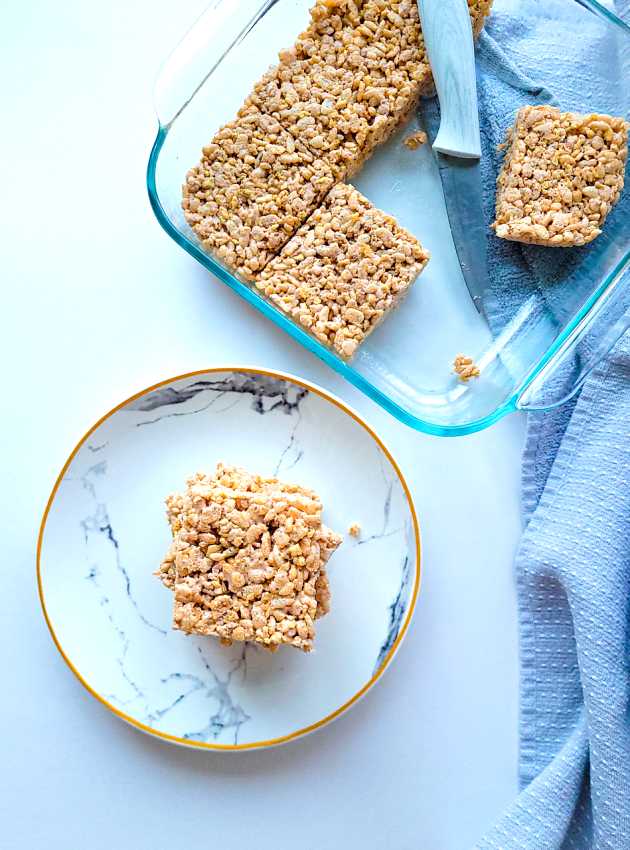 An ultra-easy and grab-and-go snack that will provide you with the energy you need for your workout or promote your recovery after it. Who doesn't love Rice Krispies squares?! Here's your new "boosted" version that will take you back to your childhood while aligning with your health goals. Enjoy!
Ingredients
750 ml (3 cups) puffed rice cereal (such as Rice Krispies)
185 ml (¾ cup) textured vegetable protein (TVP)
2 scoops of 30g vanilla or chocolate whey protein powder
750 ml (3 cups) miniature marshmallows
15 ml (1 tbsp) margarine
5 ml (1 tsp) vanilla extract
Preparation
Line the bottom of an 8-inch by 8-inch baking pan with parchment paper. Set aside.
In a large bowl, mix the cereal, TVP, and protein powder. Set aside.
In another microwave-safe bowl, melt the marshmallows, margarine, and vanilla extract: heat in 20-second intervals, stirring between each time, until the mixture is smooth.
Pour the melted marshmallow mixture over the dry ingredients and gently mix until everything is well coated.
Transfer the mixture to the prepared pan and press the mixture down with slightly wet hands (this prevents the mixture from sticking to your fingers).
Allow to cool for at least 1 hour before cutting the mixture into 9 pieces.
Notes
Store in an airtight container at room temperature for up to 3 days or in the refrigerator for up to 7 days. Can be frozen for up to 3 months.
*Tip: Place parchment paper between the pieces to prevent the bars from sticking together. Allow the bars to soften in the refrigerator or at room temperature before serving.