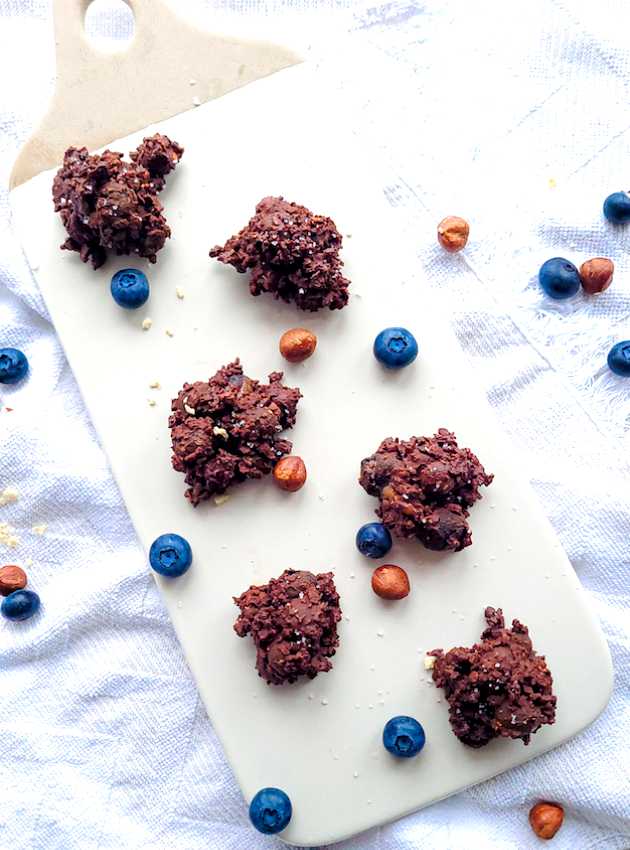 Discover our recipe for High Protein Blueberry Clusters: an easy-to-make snack (or dessert) with only 5 fresh and nutritious ingredients. Satisfy your sweet cravings while nourishing yourself with good fiber and plant-based proteins. A delicious and nourishing option to take care of yourself in no time!
Ingredients
4.5 oz (135 g) dark chocolate, 75% cocoa or higher, roughly chopped (about ¾ cup)
¾ cup (185 ml) textured vegetable protein (TVP)
¼ cup (60 ml) roughly chopped roasted hazelnuts
1 tablespoon (15 ml) whole chia seeds
¾ cup (185 ml) fresh blueberries, washed and well dried*
Pinch of sea salt
Preparation
In a microwave-safe medium bowl, melt the chocolate by heating it in 30-second intervals, stirring between each interval to avoid burning.
Add the TVP, hazelnuts, and chia seeds to the melted chocolate, and mix well. Gently fold in the blueberries, ensuring they are well coated without crushing them.
Using a tablespoon, form small clusters with the mixture and place them on a baking sheet lined with parchment paper. If desired, sprinkle with a pinch of sea salt.
Refrigerate for at least 1 hour before enjoying, or until the clusters are well set and easily detach from the parchment paper.
 
Note: It is preferable to use fresh blueberries instead of frozen ones to prevent excess moisture.
Notes
Can be stored for up to 5 days in an airtight container in the refrigerator. Freezes for up to 3 months.