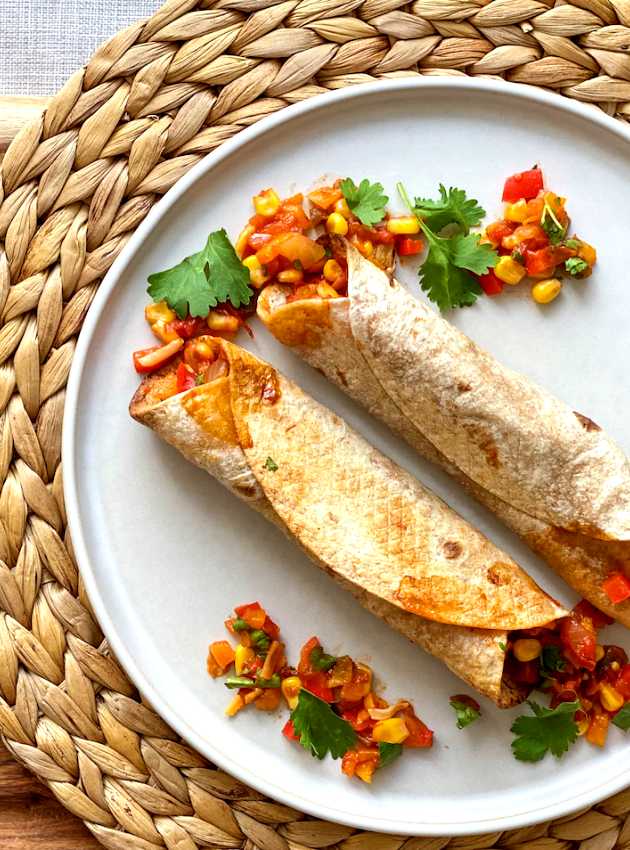 Indulge in the irresistible flavors of our Vegan Sausage Gusta Flautas! A crispy and spicy delight, this recipe brings together plant-based goodness. Discover the joy of meatless indulgence!
Ingredients
1 package of 12 Gusta Vegan Dogs
1 clove (or 5 ml / 1 tsp) minced garlic
5 ml (1 tsp) olive oil
500 ml (2 cups) corn kernels
1 red bell pepper, diced 
1 orange bell pepper, diced
500 ml (2 cups) store-bought salsa
12 whole wheat tortillas 
375 ml (1½ cups) grated Tex-Mex cheese
A few chopped fresh cilantro leaves
Preparation
Preheat the oven to 450°F (230°C). Line a baking sheet with parchment paper or a silicone mat.
In a skillet over high heat, grill the sausages and garlic in a drizzle of olive oil for 5 minutes, then add corn, bell bell pepper and salsa. Simmer for 5 minutes over medium heat.
Assemble the flautas by placing a sausage and sauce in the center of each tortilla. Top with cheese, a few cilantro leaves and fold the tortilla towards the center on each side. Place on a baking sheet with the open side facing down.
Bake for 10 minutes or until the tortilla is lightly toasted and the cheese is melted.
Notes
Can be kept for 3 days in the refrigerator.