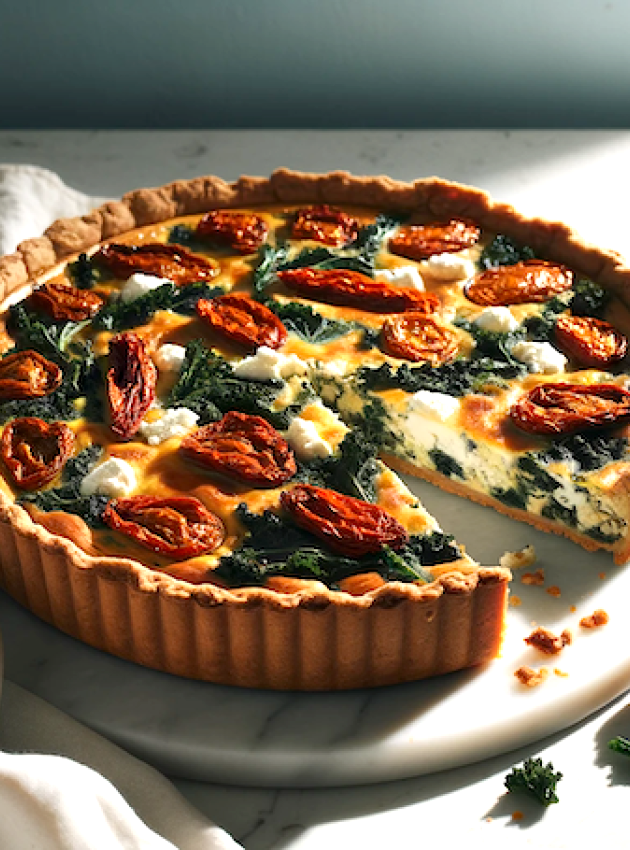 Indulge in the exquisite Goat Cheese and Sun-Dried Tomato Quiche. A fusion of creamy goat cheese and flavorful sun-dried tomatoes nestled in a delicious flaky crust. Delight your taste buds today!
Ingredients
1 whole wheat tortilla
10 ml (2 tsp) of oil
6 eggs
190 ml (3/4 cup) of milk
Salt and pepper to taste
5 ml (1 tsp) herbs of your choice (basil, thyme, oregano etc.)
About 5 dried tomatoes, chopped
250 ml (1 cup) chopped kale (or spinach)
150 g goat cheese crumbled
Fresh rosemary, chopped (optional)
Preparation
Preheat the oven to 400 degrees F.
In a round pyrex dish, place the tortilla and brush with 5 ml of oil.
In a pan grill the kale in 5 ml of oil for about 5 minutes, then remove from heat.
In a large bowl, whisk together eggs, milk, herbs, salt and pepper.
Add the dried tomatoes and kale and mix well.
Pour the mixture onto the tortilla, then add the cheese and rosemary.
Put in the oven for 30 -35 minutes.