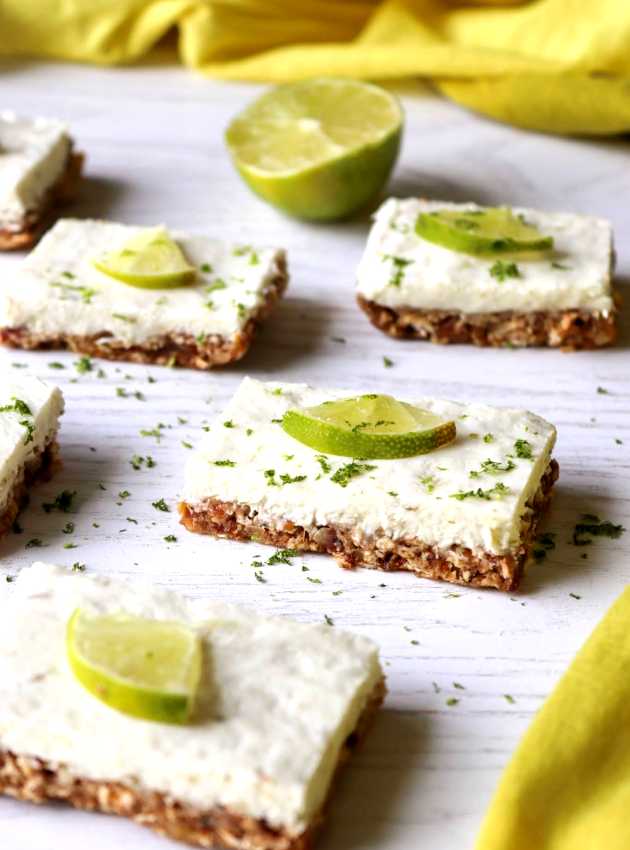 Dive into the refreshing flavors of our Lime Ice Squares recipe. Indulge in these zesty and creamy frozen treats, combining the tanginess of lime with a luscious texture that will leave you craving for more. Perfect for a cool and delightful dessert.
Ingredients
The zest and juice of 2 limes (or 60 ml / ¼ cup of juice)
1 can of 400 ml (13.5 oz) light coconut milk
45 ml (3 tbsp) cornstarch
45 ml (3 tbsp) maple syrup
325 ml (1 1/3 cups) softened dried dates
325 ml (1 1/3 cups) large flake oats
160 ml (2/3 cup) walnuts (or other nuts/seeds of choice)
Note: To soften the dates in the microwave, place them in a large bowl and cover with water. Microwave on high for 2 minutes, then drain the dates.
Preparation
Line a 23 x 33 cm (9 x 13 inch) baking dish with parchment paper. 
In a small saucepan, zest the limes and extract the juice. Add coconut milk, maple syrup, and cornstarch. Whisk until the cornstarch is completely dissolved. 
Heat the saucepan over medium-high heat. Once bubbles form, stir continuously until the mixture has a pudding-like texture, about 5 minutes. Remove from heat. 
In the bowl of a food processor, combine softened dates, oats, and nuts. Blend well. Press the date mixture into the prepared baking dish, creating a crust. 
Pour the lime mixture over the crust, ensuring an even layer. Cover and freeze for at least 2 hours (for a creamy pie-like texture) or overnight (for a frozen yogurt-like texture). Cut into 16 squares.
Notes
Can be kept 2 months in the freezer.