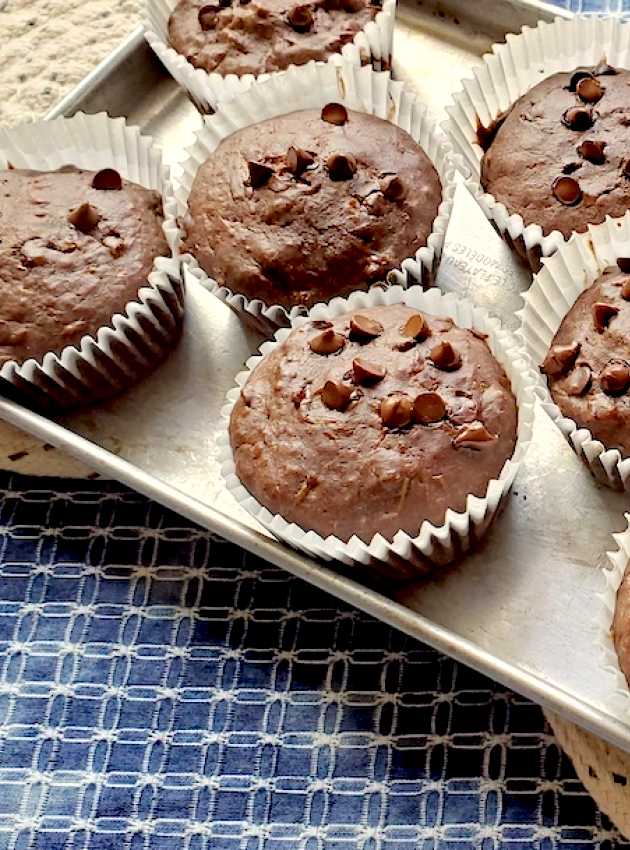 Indulge in guilt-free indulgence with our Double Chocolate Zucchini Muffins. A delectable treat hiding wholesome zucchini, they offer a heavenly blend of rich chocolate flavors and added nutrients. Satisfy your sweet cravings with a nutritious twist!
Ingredients
Dry ingredients 
375 ml (1 ½ cups) whole wheat flour
80 ml (⅓ cup) cocoa powder
125 ml (½ cup) white sugar
80 ml (⅓ cup) semi-sweet chocolate chips
10 ml (2 tsp) baking powder
1 ml (¼ tsp) salt
Wet ingredients
250 ml (1 cup) zucchini, finely grated and drained (see note)
125 ml (½ cup) 1% milk
1 egg
60 ml (¼ cup) vegetable oil
5 ml (1 tsp) vanilla extract
Note: Squeeze the grated zucchini well with your hands to remove excess water before adding to the mixture
Preparation
Preheat the oven to 350°F (180°C). Oil a 12-muffin pan and set aside.
In a large bowl, combine all dry ingredients, set aside.
In a medium bowl, combine all wet ingredients. Pour over dry ingredients and mix just until all ingredients are incorporated.
Divide mixture among pans.
Bake for 25 minutes, then let cool.
Notes
Can be kept for 5 days in the refrigerator or 2 months in the freezer.