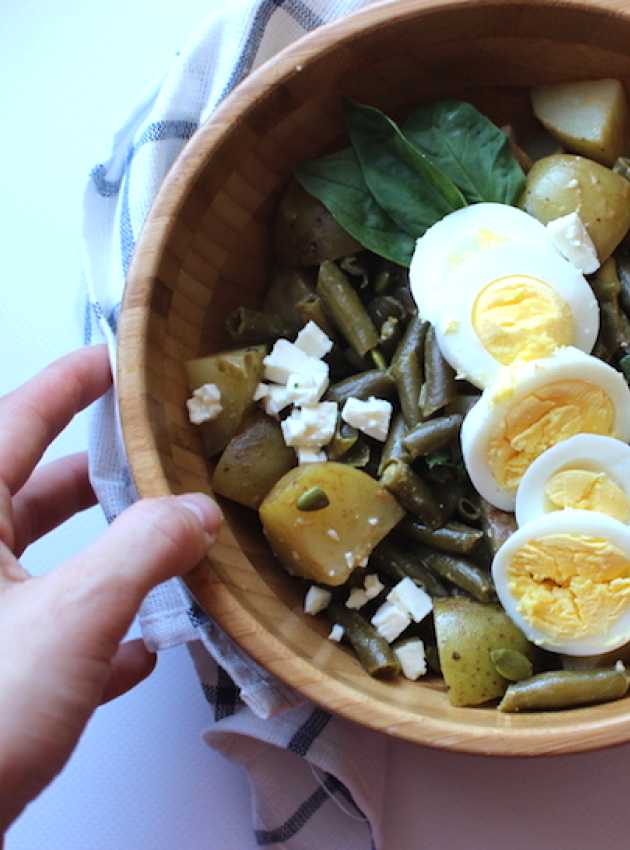 Let yourself be captivated by the freshness of crunchy ingredients, enhanced by unique flavors that will awaken your senses with each bite. A perfect balance of delicacy and indulgence for unforgettable meals!
Ingredients
Salad
1 L (4 cups) of baby potatoes, quartered, cooked
1 can (398 ml) of green beans
15 ml (1 tbsp) of capers
65 ml (1/4 cup) of crumbled feta cheese
30 ml (2 tbsp) of pumpkin seeds
4 hard-boiled eggs, sliced
A few basil leaves, chopped
Vinaigrette
15 ml (1 tbsp) of Dijon mustard
15 ml (1 tbsp) of balsamic vinegar
5 ml (1 tsp) of maple syrup
30 ml (2 tbsp) of olive oil
15 ml (1 tbsp) of water
Salt and pepper to taste
Preparation
In a small bowl, using a fork, mix all the vinaigrette ingredients together. Set aside.
In a large bowl, mix all the salad ingredients except for the eggs. 
Add the vinaigrette and gently toss to combine. 
Add the sliced eggs on top before serving!