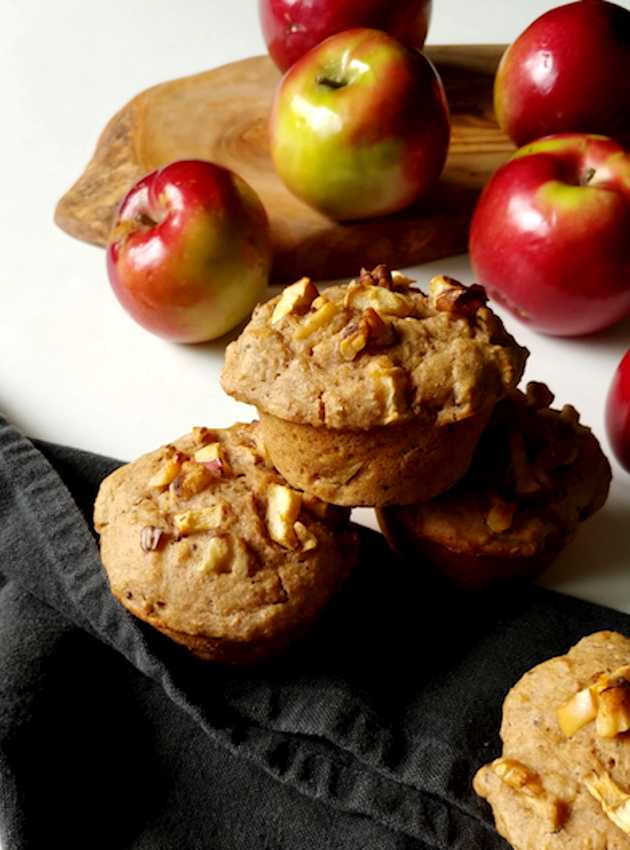 Indulge in the irresistible flavors of our homemade Apple Muffins, a delightful treat bursting with juicy apples and warm spices that will surely satisfy your cravings.
Ingredients
250 ml (1 cup) unsweetened applesauce
250 ml (1 cup) unsweetened plant-based beverage (or milk of choice)
125 ml (½ cup) maple syrup
80 ml (⅓ cup) natural nut butter
10 ml (2 tsp) vanilla extract
5 mLl(1 tsp) white vinegar
500 ml (2 cups) whole wheat flour
10 ml (2 tsp) baking powder
5 ml (1 tsp) baking soda
5 ml (1 tsp) cinnamon
2 small apples, seeded and diced
125 ml (½ cup) chopped walnuts
Preparation
Preheat the oven to 190°C (375°F) and grease 12 muffin cups. 
In a large bowl, combine applesauce, plant-based beverage, maple syrup, nut butter, vanilla extract and vinegar. 
Add flour, baking powder and cinnamon and mix well. Add apples and walnuts, reserving a few pieces to decorate muffins. 
Divide the mixture between the muffin cups and top with the reserved apple and walnut pieces. 
Bake for 20–25 minutes until a toothpick inserted in the center of a muffin comes out clean. 
Let cool before unmoulding and enjoying.
Notes
Can be stored for 4 days in the refrigerator or 2 months in the freezer.