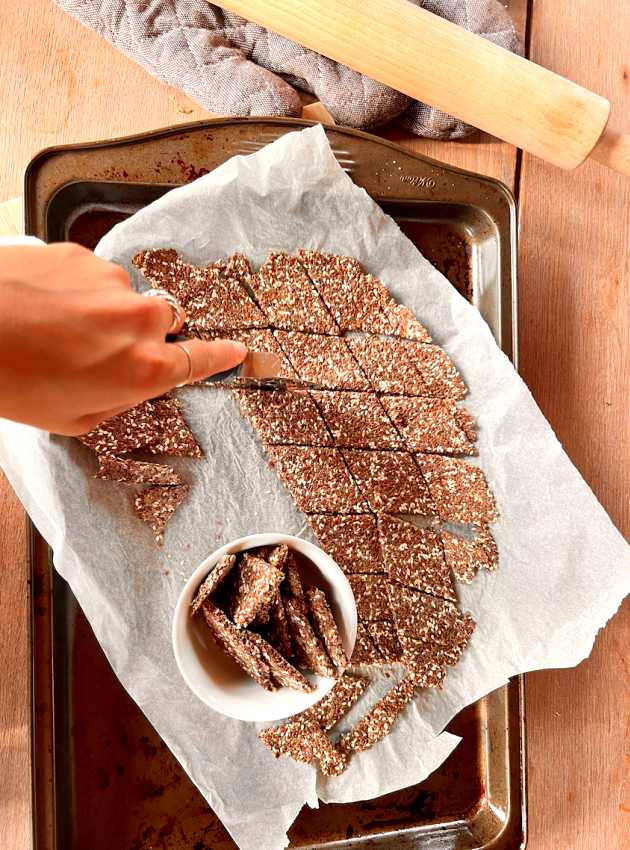 This simple and quick recipe for flaxseed, chia seed, and sesame seed crackers is high in fiber and protein, and it will only take you five minutes to prepare. It's an easy and delicious way to add nutritious elements to your diet. Follow these easy steps and enjoy these healthy and tasty crackers!
Ingredients
1 cup (250 ml) flaxseeds
½ cup (125 ml) water
⅓ cup (80 ml) sesame seeds
¼ cup (60 ml) chia seeds
⅔ teaspoon (3.5 ml) salt
Preparation
Preheat the oven to 300°F (150°C).
In a blender, grind half of the flaxseeds.
In a medium bowl, mix all the ingredients until well combined.
Spread the mixture onto parchment paper using a rubber spatula.
Place a second piece of parchment paper over the mixture and flatten it with a rolling pin to achieve a thin, even layer about 3 mm thick.
Remove the second parchment paper and cut the crackers into diamond shapes, approximately 4 x 3 cm in size (yielding about 36 crackers).
Place the parchment paper with the crackers on a baking sheet and bake for 30-35 minutes or until the crackers are completely dry and crispy.
Once cooked, separate the crackers and enjoy!
Notes
Store in an airtight container at room temperature for up to 1 month.