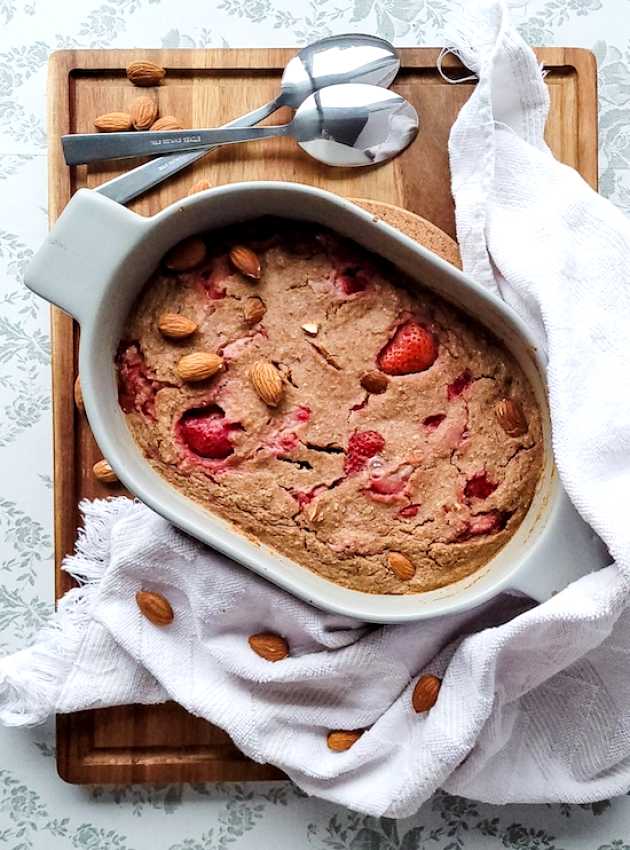 "Baked oats" have become a viral recipe on social media as an easy, nutritious, and versatile breakfast option. We reinvent how we consume oatmeal by blending it into a cake-like texture... yum! Plus, thanks to TVP, skim milk, and egg whites, you get a significant amount of protein for few calories.
Enjoy!
Ingredients
560 ml (1 ¾ cups) quick-cooking oats

125 ml (½ cup) textured vegetable protein (TVP)

5 ml (1 tsp) baking powder

250 ml (1 cup) skim milk

85 ml (⅓ cup) egg whites (equivalent to 3 eggs)

15 ml (1 tbsp) maple syrup
250 ml (1 cup) strawberries, diced

60 ml (¼ cup) unsalted roasted almonds, roughly chopped
Preparation
Preheat the oven to 350°F (180°C).

In a food processor, grind the oats, TVP, and baking powder.

In a 20 x 20 cm (9 x 9 inch) baking dish, mix the skim milk, egg whites, and maple syrup.

Stir in the dry ingredients until you have a smooth mixture, then add the strawberries and almonds. Gently mix.

Bake for approximately 25 minutes or until a knife comes out clean.
Notes
Keeps for 5 days in an airtight container in the refrigerator. Freezes for up to 3 months.
*Tip: Cut them into portions before freezing. This way, you can take out individual servings as needed, especially on busy mornings.