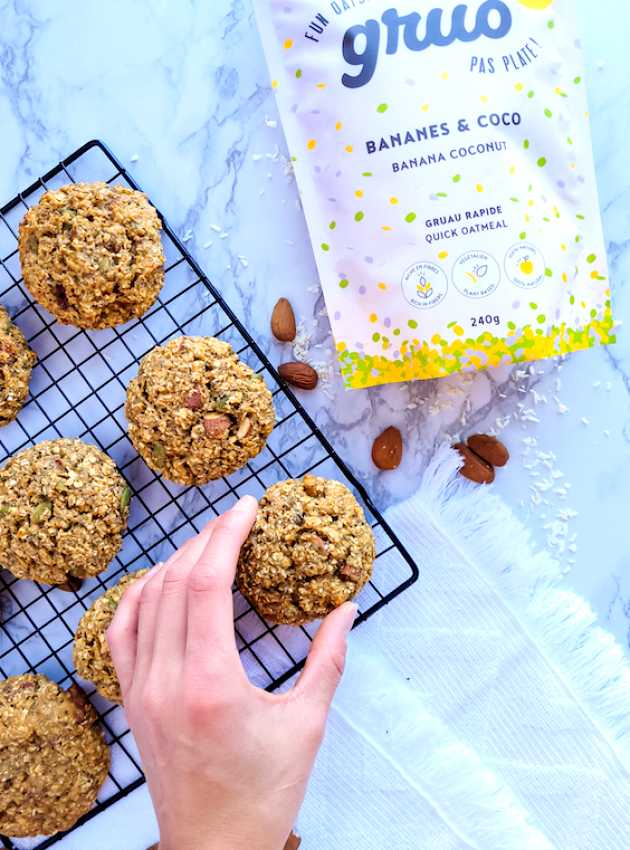 These nutritious cookies are perfect as an on-the-go snack to fill you up until your next meal. Or pair them with Greek yogurt and you've got a full breakfast to start your day!
Ingredients
1 240 g (or 2 ½ cups) bag of "Gruo pas plate" banana and coconut mixture
250 ml (1 cup) all-purpose whole wheat flour
15 ml (1 tbsp) baking powder
60 ml (¼ cup) brown sugar
2 eggs
125 ml (½ cup) ripe banana, mashed
187 ml (¾ cup) plain 0% Greek yogurt
60 ml (¼ cup) unsweetened vanilla almond drink
60 ml (¼ cup) unsalted roasted almonds, coarsely chopped
60 ml (¼ cup) unsalted pumpkin seeds
Preparation
Preheat oven to 350°F (180°C).
In a medium bowl, combine Gruo mixture, flour, baking powder and brown sugar.
In a separate, larger bowl, combine eggs, mashed banana, Greek yogurt and almond drink.
Gradually add dry ingredients to wet ingredients and mix well until mixture is smooth.
Add almonds and pumpkin seeds and mix well.
On a parchment-lined baking sheet, form eight cookies, using about 45 mL (3 tbsp.) of dough for each. Moisten your hands with a little water to prevent the dough from sticking to your fingers.
Bake for 18 to 20 minutes.
Conservation
Can be kept for 7 days in the refrigerator. Can be frozen for up to 3 months.