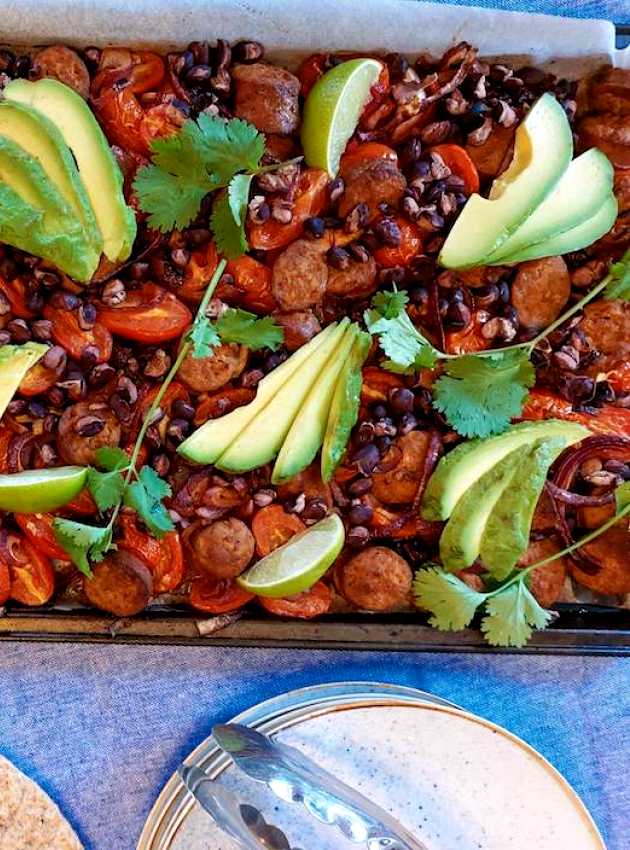 Embark on a flavor-filled journey to Mexico with our Sheet Pan Mexican Sausages. Indulge in a spicy symphony of sausages, colorful vegetables, and aromatic spices in this delightfully easy-to-make dish. A heartwarming and palate-pleasing culinary experience!
Ingredients
280 g (2 cups) cherry tomatoes, cut in half

170 g (6 oz) chicken sausages (chorizo type)

1 red onion, chopped

30 ml (2 tbsp) olive oil

60 ml (¼ cup) chipotle adobo sauce (La Costeña type)

5 ml (1 tsp) sweet paprika

1 can 540 ml (19 oz) black beans, rinsed and drained

1 avocado, sliced

1-2 limes, cut into quarters

A few coriander leaves, to taste

Tortillas, cut into 8 wedges (optional)

Sour cream (optional)
Preparation
Place the rack in the center of the oven. Preheat oven to 425˚F (220°C). Line a baking sheet with a silicone mat or parchment paper.

In a saucepan of boiling water, cook whole sausages for 5 minutes. Drain and cut into thin slices (¼ inch).

Place tomatoes, sausages, and onion on a baking sheet and coat with oil, adobo sauce and paprika.

Bake for 15 minutes. Add beans. Add pepper and mix well. Continue cooking for 3 minutes.

Remove from oven and garnish with avocado slices, lime wedges and cilantro. Serve with tortillas and sour cream, if desired.