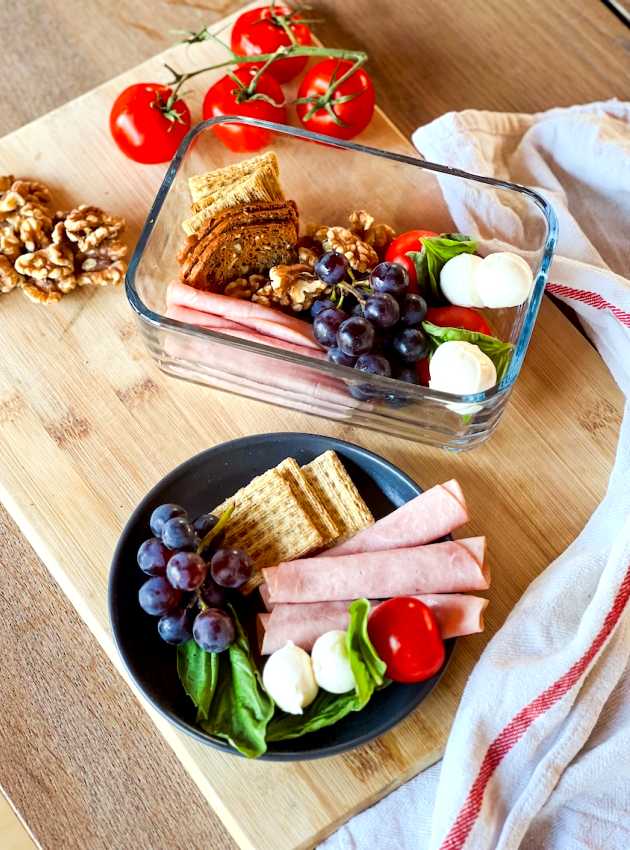 Here's a delicious, protein-rich Italian lunch box recipe, perfect for those looking for a healthy and quick meal to prepare. This creation combines the freshness of cherry tomatoes, the sweetness of cocktail bocconcini and grapes, the savory flavor of Italian ham, and the crunch of fig and olive crackers and walnuts. A burst of sweet and savory Mediterranean flavors that will transport you straight to Italy.
Ingredients
3 cherry tomatoes

6 cocktail-sized (60 g) light bocconcini, 14% M.F.

3 fresh basil leaves

125 ml (½ cup) fresh grapes

3 fig and olive crackers (30 g) (such as Irrésistibles)

3 pepper and olive oil crackers (30 g) (such as Triscuit)

3 slices (30 g) nitrate-free Italian ham (such as Natural Selections)

30 g (¼ cup) walnuts
Preparation
Assemble all the ingredients in an airtight container or a Bento box-style snack box. Enjoy cold.
Notes
Stores for 3-5 days in the refrigerator (store crackers at room temperature). Not suitable for freezing.